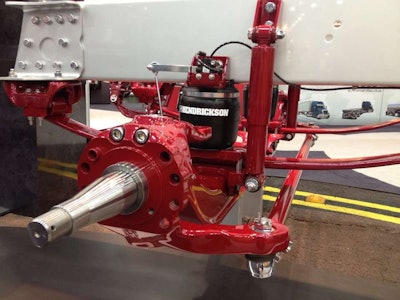 Hendrickson today announced Ultimaax, "our next generation rubber suspension" for the severe service market, said Doug Sanford, vice president and general manager for the truck market.
The product address the need for severe duty suspension around the 46,000-pound segment.
Ultimaax has a "new flat bottom design for increased ground clearance," Sanford said.
With rubber suspension, progressive rate springs and walking (equalizing) beam technology, it enables improved ride conditions when loaded and unloaded, Sanford said.
Ultimaax will be available in the fourth quarter in three capacities, 46,000, 52,000 and 60,000 pounds. Later launches will cover heavier capacities.
Hendrickson also announced the launch of Zero-Maintenance Damping ride technology, the industry's first "shockless" air suspension, said Vice President Perry Bahr. The ZMD air spring exchanges pressurized air between the bellows and pistol, he said. It provides uniform and consistent damping.
Shocks usually need to be replaced during the truck's life cycle, resulting in downtime. Leaky shocks can also lead to a citation, said Barr
"Our new Zero-Maintenance Damping air springs take the hassles of common suspension wear item — the shock absorber — out of the maintenance equation entirely," said Scott Fulton, director of new product development.
ZMD is available on select Vantraax integrated air slider models.
Hendrickson recently launched global, mutli-lingual websites in conjunction with its 100th anniversary. The sites provide product and service information to fleets, owner-operators, and truck and trailer manufacturers.