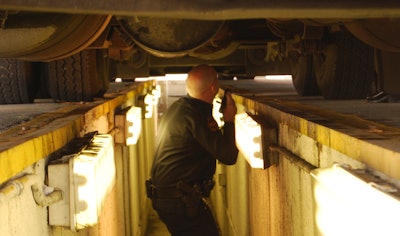 EDITOR'S NOTE: Working with CCJ and Overdrive publisher Randall-Reilly Business Media's RigDig Business Intelligence unit, we analyzed inspection and scoring data at the end of the Compliance Safety Accountability program's second year since going live in December 2010. Here we report the results of that analysis, offering insights into enforcement patterns and what you can do to keep your business in the clear. Here's the first part in a five part series.
Based on analysis of data from the first two years of the Federal Motor Carrier Safety Administration's Compliance Safety Accountability program, 20 percent of carriers now have a ranking in at least one of the seven Behavioral Analysis and Safety Improvement Categories that make up the Safety Measurement System component of CSA. That's a marked improvement over the 12 percent – determined by CCJ – that was cited widely in the program's early days.
Given their higher exposure, the largest carriers are from two to 30 times more likely on average than single-truck independents to have a score above an intervention threshold depending on the BASIC. But large carriers aren't the only ones that find themselves in CSA's crosshairs.
Inspections affect small carriers
The average CSA score for all of the smallest carriers is abnormally low because most small carriers have no public score. Of close to 470,000 carriers with U.S. Department of Transportation operating authority, fewer than half have any SMS data at all, according to recent estimates by Dave Kraft of Qualcomm. Just less than one fourth have a few inspections – but no SMS ranking or "score" in any BASIC.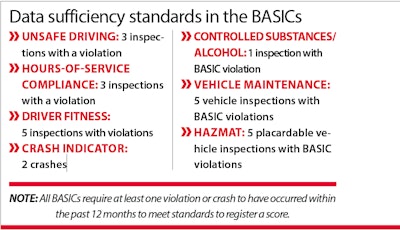 But when they do garner enough inspections to be rated, smaller carriers showing public BASIC scores on average receive negative (higher) scores.
You don't have to look far to find examples of carriers with fewer than 15 trucks that make their CSA scoring debut at the highest level possible – 99.9 – after a single inspection with a violation or two meets data-sufficiency requirements in a BASIC. This makes for no shortage of difficulty in score management.
"If the system is displaying 'less than 5 inspections with a violation' or 'less than 3 inspections with a violation' " in any BASIC, FMCSA representatives say, "it doesn't mean that they might not be on the 'cusp' of generating sufficient negative information for us to assign a high percentile score and intervene."
Drill down into the data – just one click from your main carrier SMS results page – to "see how many inspections with violations that they do have and what those violations are," FMCSA says. Then, "take efforts to avoid similar violations."
Five-truck intermodal fleet owner Thomas Blake experienced this dynamic. He spent more than a year above the alert threshold in the Hours-of-Service (HOS) Compliance BASIC. Now his fleet is back to showing no score on its main SMS profile there. It went from showing a ranking in the 60s – close to the intervention threshold – to being below data sufficiency standard levels because he had less than three inspections with a violation.
What did it take to get there? He did what a large majority of large carriers have done – invested in electronic onboard recorders. Blake, who at the time had six trucks, spent $9,000 for an EOBR system. It eliminated minor "form and manner violations," putting his operation a leg up in the HOS Compliance BASIC over his peers.
The only way to improve scores other than getting clean inspections is to wait. The weight value of inspections and violations in scoring falls after six months and again after 12 months. They drop out of the SMS after two years.
Installing EOBRs, a costly decision that seemingly would please inspectors and improve an independent's score, in a sense backfired on Blake in the short term but paid off eventually. Because so many inspectors view EOBR-equipped trucks as not worth the time of an inspection, it was unlikely that Blake's truck actually would get clean driver inspections to improve his score quickly. With time, however, Blake's HOS Compliance BASIC score disappeared.