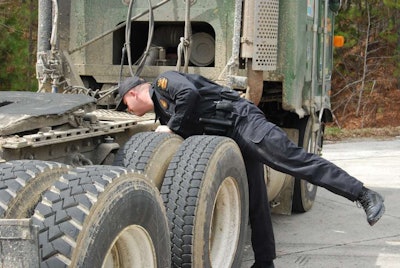 EDITOR'S NOTE: Working with CCJ and Overdrive publisher Randall-Reilly Business Media's RigDig Business Intelligence unit, we analyzed inspection and scoring data at the end of the Compliance Safety Accountability program's second year since going live in December 2010. Here we report the results of that analysis, offering insights into enforcement patterns and what you can do to keep your business in the clear. Here's the second part in a five part series. Click here to see Part 1.
Data analysis since CSA's inception also indicates independent owner-operators have a much greater chance of getting inspected and put out of service than owner-operators and company drivers at the largest carriers. In fact, an independent owner-operator's truck is four times as likely to get inspected as a truck running under the authority of carriers with more than 500 trucks. The likelihood of being placed out of service is three and a half times as great for independents drivers – and almost twice as likely for their vehicles – compared to those of the biggest fleets.
An independent who keeps the number of inspections with an associated violation below the data sufficiency level never will show a score. But the ambiguity of showing no score is too risky for third parties who want to verify safety, say some – such as owner-operator Daniel Miranda, who testified before the U.S. House of Representatives' Small Business Committee last summer.
"FMCSA urges shippers and brokers to use carriers who have been inspected versus those who have not been inspected," Miranda says. "Moreover, brokers and shippers feel as if they will be liable if they do not use carriers with positive CSA rankings, something only achievable if a carrier undergoes lots of clean inspections. As a small carrier, I am less likely to be inspected. … It is difficult for me to show a score, much less" a positive score.
That's only part of the dilemma. If the independent does pass the sufficiency thresholds, the carrier is likely to start its publicly scored history above the intervention threshold. Consider the average ranking for single-truck businesses actually scored in each of the BASICs; all except Vehicle Maintenance and Controlled Substances/Alcohol BASICs show rankings above the intervention threshold.
It's not uncommon for an independent owner-operator to have an unlucky rash of inspections with violations that meet data sufficiency standards. In such a case, two years saddled with a score above the intervention threshold can be a long time indeed. Without clean inspections or any new violations, some carriers even have seen scores go up over time as their number of inspections in the system decreases, placing them in a different safety-event peer group for comparison.