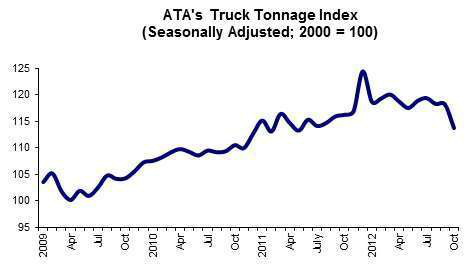 The For-Hire Truck Tonnage Index produced monthly by the American Trucking Associations rose 0.9 percent in March on a seasonally adjusted basis from February, making up for the prior month's 0.7 percent drop.
However, the Index has shown much life the last several months, moving up 7.6 percent since November. The Index is also up 3.8 percent since the same month in 2012 and is approaching December 2011's high of 124.3. March's Index equaled 123.5.
ATA Chief Economist Bob Costello says the growth in the first quarter was very good and in line with expectations for growth in U.S. gross domestic product. He did say, however, the type of growth seen in the first quarter may wane some moving into the spring and summer months.
"Expect freight tonnage will slow in the months ahead as the federal government sequester continues and households finish spending their tax returns," he said. "The good news for tonnage is housing starts are growing and energy production is good – both of which generates heavy freight. However, these two sectors alone won't be enough to keep the overall index growing at a 3.9 percent clip in the second quarter."