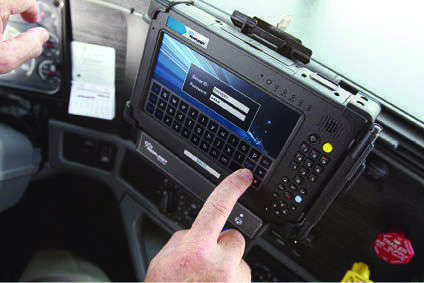 A wide gulf used to separate consumer and enterprise mobile computing. While consumer electronics always have been on the leading edge of technology, they traditionally lacked durability, reliability and security.
In the rough-and-tumble trucking industry, it was necessary to spend thousands to equip vehicles with enterprise-grade mobile devices to run applications for safety, compliance, customer service and other areas.
Today, the rules have changed; a growing number of fleet management systems now offer a hybrid approach. In-cab platforms integrate with the vehicle and use consumer-style smartphones and tablets for the display. Cloud-based applications connect the driver and vehicle to the office.
Turnpike was one of the first companies to take this approach. In 2009, Xata Corp. acquired Turnpike and adopted this strategy throughout its organization. Last year, Xata changed its name to XRS and announced plans to move to an all-mobile platform.
Companies that use industrial-strength hardware – including Qualcomm, CarrierWeb and Rand McNally – soon will offer consumer-style Android platforms as an option. The strategy is to tap a potentially large market of small fleets looking to adopt electronic onboard recorder technology ahead of the mandate.
PeopleNet now offers the option to run its in-cab platform on industrial-strength handheld devices, and Zonar Systems offers an industrial-strength Android tablet.
Thinking big
The new XRS platform, set for release this spring, uses a small relay device that connects to the vehicle's databus. The device sends information to an app on Android smartphones and tablets through Bluetooth wireless. The mobile app automatically transmits vehicle and operator data directly to a management dashboard.
The XRS platform will run on more than 50 types of mobile devices. Fleets pay a monthly subscription to use the cloud-based software, but no upfront costs for the relay device.
Allied Automotive Group is among the first fleets that will be using XRS. One of North America's largest vehicle transporters, Allied plans to implement the platform this year on 7-inch Samsung Galaxy 2 tablets connected to a 4G LTE wireless network.
The devices are part of the Samsung Safe group, a family of enterprise-grade devices that include security and feature enhancements for business use.
With the tablets, drivers can access satellite imagery of destinations, message other drivers with status updates, communicate with dispatchers, capture photos and other capabilities. Allied will integrate XRS with its existing dispatch, signature capture and form management systems; the company also plans to leverage additional XRS features and the Samsung devices to provide new services to customers.
"Efficiency, integration and rapid implementation were key priorities as we considered our first EOBR solution," says Robert Ferrell, executive vice president of fleet and maintenance for Allied Automotive Group.
A brave new world
The use of consumer-style devices in trucking opens up new possibilities for driving costs down. Owner-operators and company drivers might be willing to pay to use these systems to manage their own hours-of-service compliance, safety and performance.
Taking ownership of the data – if the fleet allows it – would give drivers more flexibility to change carriers and share their data without having to change computer systems each time they change employers.
One day, EOBRs and fleet management systems might be offered for free to fleets and drivers. Mobile apps such as Facebook or LinkedIn are free because data has a market value and can be sold to advertisers.
Included in the new version of XRS are features that allow drivers to share information through a social media platform called X Nation. Drivers will be able to use the devices to post free-form messages and share details from their performance scorecard, along with images, videos and other content.
In the future, drivers that use XRS or other apps might be willing to sell their data to traffic companies and their performance statistics to driver recruiting services. Fleets already pay for Motor Vehicle Record reports; why wouldn't they pay to know drivers' records for performance and profitability?
While it may seem like a farfetched idea for the industry to not own EOBR and other data now, the trends in the consumer world make it impossible to ignore.