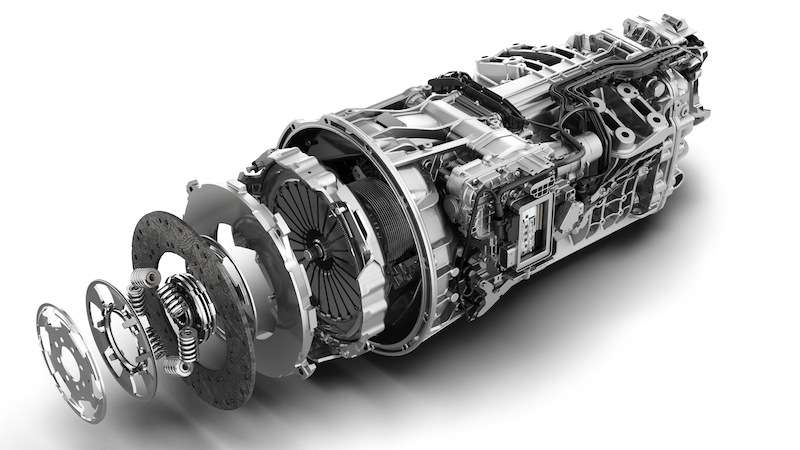 Freightliner Cascadia customers now have a new transmission option available to them. Today, at its the Mercedes-Benz transmission assembly plant in Gaggenau, Germany, Daimler Trucks North America pulled the curtain back on the new Detroit DT12 automated-manual transmission. The new transmission is available exclusively in Freightliner Cascadia models equipped with the DD15 diesel engine. Production has already begun at the plant in Gaggenau with the first North American deliveries slated to begin next month.
The base automated transmission unit has been available in Mercedes-Benz and other Daimler trucks in Europe for about four years now. The 12-speed version that will be initially offered in North America has been available for about 2 years and will be offered for all DD15 power ratings ranging from 455 to 505 horsepower. Torque ratings are from 1,550 to 1,750 pound-feet.
According to Dr. Frank Reintjes, head of global powertrain procurement and manufacturing and engineering for Mercedes Trucks, additional transmission models for other Detroit engines are coming to North America, with a DD13 version slated for release in October of this year and a DD16 coming in 2014. Additionally, 8- and 16 speed versions will debut in North America at a later date. At some point, Reintjes noted, it is logical to assume that the DD12 will become available for Freightliner models other than Cascadia as well as Western Star trucks — but adds that no timeline or directive for such a move has been issued by Mercedes-Benz thus far.
Reintjes outlined several key benefits found in the D12 transmission, including easier handling and reduced fatigue for drivers due to to no clutch actuation and faster, smoother gear shifts.
In fact, according to Brad Williamson, manager, engine and component marketing for Daimler Trucks North America, drivers will feel an aggressive throttle response from the D12, since its skip-shifting patterns are designed to get the truck into the highest possible gear as quickly as possible in order to maximize fuel economy.
"In fact, optimizing fuel economy was the overriding design priority for this transmission," Williamson added. "Because this is a proprietary, fully-integrated transmission, the engine shares all of its operational data — including its fuel map — with the transmission to deliver the best possible mix of power, torque and fuel economy regardless of driving conditions."
Other options also work to boost fuel economy, including a new eCoast feature which allows the transmission to disengage from the engine on downhill grades: The engine goes to idle while the transmission manages kinetic energy to maintain desired speed. To further boost driver efficiency, the DT12 also features three driving modes that allow drivers to select from based on terrain and application demands.
"Very good drivers running a manual transmission today can get fuel economy almost as good as an automated manual transmission," Reintjes adds. "The problem, however, is that drivers with those abilities are rare — only about 5 percent of drivers are capable of driving that well. And those drivers are getting harder and harder for fleets to find, recruit and retain."
Williamson notes that fleets can generally expect to see about a 4 percent increase in fuel economy across the board by spec'ing automated manual transmissions. "Automated manuals level the playing field between drivers," he notes. "Instead of some driver getting 4 mpg, for example, and others getting 7 mpg, you can flatten that bell curve and get more consistent fuel economy numbers from all your drivers — regardless of their experience levels. And the money saved on fuel goes right to the fleet's bottom line."
Freightliner dealers are taking DT12 orders now. The transmission comes with a five-year/750,000 mile standard warranty. The clutch comes with a three-year/350,000 mile warranty.