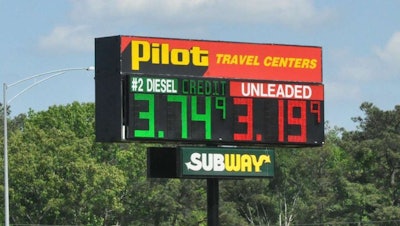 Pilot Flying J has set up an informational website regarding its recent settlement with trucking companies over the fuel rebate withholding scheme it allegedly participated in for roughly a decade-long period and says that those included in the settlement have until Oct. 15 exclude themselves from the class or object.
Excluding you or your company from the settlement means you do not choose to participate and will not receive payment in the settlement. It is the only option that allows you to sue the company over rebate withholding claims.
The other option is to object to the settlement by writing to the court that you do not like it, Pilot's website says.
If trucking companies included in the settlement want to simply receive payment from Pilot with the owed 6 percent interest, there's no action required, as a check will be mailed automatically.
The site also says the class members of the settlement will be sent an initial notice mailing Aug. 6.
Pilot agreed July 16 to settle the roughly 20 class-action lawsuits brought against it. An Arkansas judge approved the settlement, and Pilot must pay back in full all companies it withheld rebates in addition to 6 percent interest on the money withheld. A court-appointed accountant will review Pilot's calculations.
For more on last week's settlement, click here to see CCJ's coverage.
Click here to see the informational website Pilot has set up.