Meritor's European Aftermarket business received the first ECE R90 certification for Meritor AllFit brake discs from the Vehicle Certification Agency (VCA).
"Passing this certification is a testament to the performance and durability of our Meritor AllFit brake disc family," said Michael Boe, managing director, Aftermarket Europe, Meritor. "These parts have similar performance attributes as original equipment parts and are put through rigorous tests to meet high standards."
During VCA testing, parts are evaluated for geometry, material specifications, wear condition, service brake vehicle performance, comparison with dynamic frictional properties of the original part and high load and thermal fatigue integrity tests.
Each disc was tested using R90-approved MDP3000 pads and met each requirement. Testing included 15 or more cycles without damage or failure for thermal fatigue, 500 cycles without failure for R90 high strength test, and 10 cycles testing for surface cracks up to 2/3 radial width of the friction surface.
The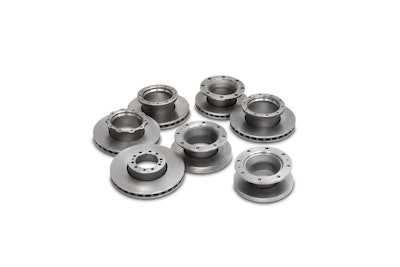 VCA is an executive agency of the United Kingdom's Department for Transport, Type Approval Authority and a leading certification body.
"Meritor works continuously to further refine replacement part validation processes and original equipment tests, ensuring products meet customer requirements," added Boe.