XTRA Lease announced it is now providing basic trailer tracking service to fleets on new long-term leased trailers for no charge.
According to the company,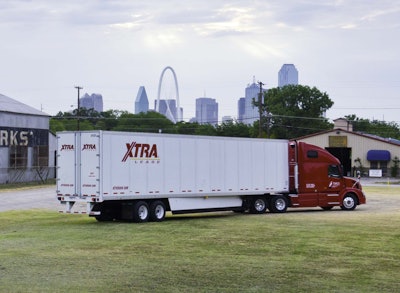 XTRA Lease has long offered basic trailer tracking on dry van rentals for free. The company is now including basic tracking service at no extra cost on all newly leased dry vans and late model reefers (model-year 2010 and newer.)
Basic trailer tracking services enables users to:
· View current and historical trailer locations
· Drill into dormancy and utilization info to better understand how trailers are being used
· Receive email subscription reports providing the latest location and dormancy info
XTRA Lease continues to offer full service tracking with leases for a fee when fleet managers want additional monitoring and sensor capabilities.
"More than 10 years ago, we pioneered the wide-spread use of trailer tracking technology by installing tracking systems on our dry van fleet," said Bill Franz, XTRA Lease president and CEO. "The service has evolved into a critical fleet management tool, and transportation professionals now expect services like trailer tracking to help them improve equipment utilization.
"Our goal is to ensure that fleets have the necessary tools to monitor their rental and leased trailers' operational performance, ensuring they receive maximum benefit from every rented and leased trailer. This is another step in helping them succeed," Franz added.
XTRA Lease will continue to offer basic trailer tracking on over-the-road dry van rentals – and now late model reefers – at no charge.