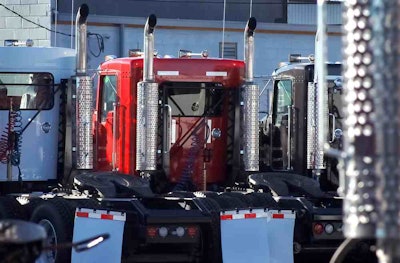 The automotive industry is going gangbusters as the combination of an improved economy and ancient cars and light trucks is sending consumers into showrooms. In general, the trucking industry also is enjoying an improving economy and living with aging equipment, but heavy truck sales aren't seeing the same robust growth.
Some reasons for the disparity are obvious. A new Class 8 truck costs multiples of a new automobile. And you only need a truck if you have both freight and a driver to fill the seat, neither of which are guarantees these days. Even if you have freight and drivers, is your freight rate high enough to justify the higher cost?
While business is better today for most operations than it was in 2008-10, a combination of factors conspires to hold back investment.
Speaking at the Avondale Partners Trucking Forum held last month in conjunction with the Great American Trucking Show in Dallas, Tim Kohl, president of Marten Transport, noted that key factors included higher costs and inadequate return on investment. Owing to a variety of factors – emissions regulations and higher prices for key raw materials such as steel, aluminum and rubber – the cost of trucks and trailers is rising at double-digit rates. But freight rates are rising only 2 to 3 percent. "And somehow everything is going to get better by the end of the year?" Kohl asks. "It's not."
Freight rates are soft because "shippers are leveraging the fact that there hasn't been a shortage of capacity," Kohl says. While this will change, it's a process that will take time. "The equipment is old out there, and it's not getting any newer. …The rates aren't sufficient to cover the costs of our equipment." Equipment eventually will simply wear out, and capacity will drop. Only then will rates rise, and once that happens, carriers will have the resources to renew their trucks and trailers. "We think the rates are coming," he says. "We're looking forward to next year. The rest of this year is still tough."
The level of investment needed to renew the truck fleet is staggering, says Werner Enterprises President Derek Leathers, who also addressed the forum. Leathers noted that the industry's average fleet age is now 6.6 years. To bring that down to the long-run average of 5.5 years, he estimates that the industry would have to invest $54 billion over 24 months. Maintenance costs are beginning to force the retirement of aging equipment, but the capital isn't there to replace it, Leathers says.
Carriers of all sizes are caught in the trap created by higher operating costs and the lack of capital to replace trucks and trailers. But smaller trucking companies especially are vulnerable because their access to capital is more constrained. It's ultimately a life-or-death issue for many carriers. So it's hardly surprising that in a recent Randall-Reilly Market Intelligence survey, carriers with 100 or fewer trucks said that more expensive equipment was the most significant development for trucking in the next few years. Among larger carriers, more expensive equipment rated only 9th among 18 trends and developments presented.
Small trucking companies that can pull together the financing to renew their fleets likely will have some profitable years ahead of them. The challenge is getting from here to there.