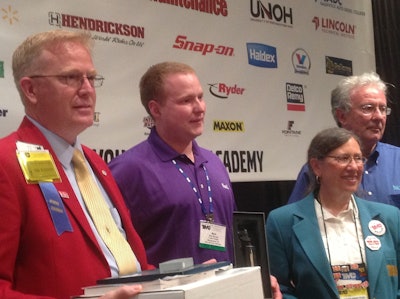 After a 17th-place finish in 2011 and a top-ten finish last year, FedEx Freight Technician Mark McLean took home top honors at the TMC SuperTech competition Wednesday in Pittsburgh.
McLean said his goal entering his third SuperTech was to take home an individual skills title. He nabbed two — wheel end and PMI — in addition to claiming the overall title, leaving the 24 year old nearly speechless after being announced as the winner.
"This year I was hoping just for a station win so when I got that I felt like I got a weight off my back," he said. "This is unbelievable."
McLean started at FedEx's Newburgh, N.Y. location at 18 and participated in his first SuperTech in 2011. He said he's had an interest in mechanical technology since he was a kid, but never imagined being this sucessful this fast.
He thanked his parents for helping him enter technical school and pushing him into the industry, as well as FedEx for his rapid growth as a tech.
In addition to his first-place honor, McLean also took home an impressive list of prizes, including a $10,000 dream shop from Reliance Supply with $5,000 in credits to stock the unit, a brand new rolling toolbox from Snap-on and two tickets to next year's Daytona 500 from TMC.
A life-long racing fan, McLean was floored and thrilled by his award haul.
"It's unbelievable," he said. "I have to thank the sponsors and everyone who put this on."
McLean's title capped off a dominating SuperTech performance by FedEx. The company grabbed the top four positions in the overall contest, with McLean followed by Eric Vos, Jeff Ostby and Derek Southerland.
FedEx's group was followed by a trio of past winners, Jeffrey Schlecht (2010, 2011) of Omaha Truck Centers, Christopher Barnett (2012) of Ryder and Christopher Tate (2009) of Mohawk Truck Centers.
Wal-Mart's Joe Calloway, FedEx's Jonathan Berg and past winner David Brian Lewis (2007, 2008) of Wal-Mart rounded out the top 10.