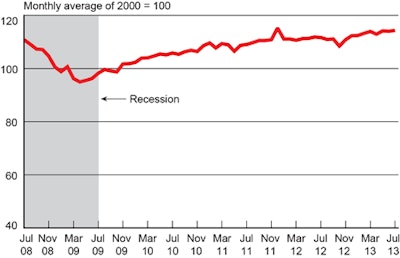 After a one-month drop in the Freight Transportation Services Index in June, the index rose 0.3 percent in July to its second highest all-time reading, reported the Department of Transportation's Bureau of Transportation Statistics, who produces the monthly index.
The index is a measure of the amount of freight carried by the for-hire industry.
In addition to July's increase, the June reading was upwardly revised to 114.0 from 113.8. July's reading was 114.3 — second only to December 2011's 115.2.
July's reading is up 20.5 percent from April 2009's low during the most recent recession, BTS says. The increase was mostly spurred by increases in rail intermodal and inland water shipments, along with small increases in trucking and rail carloads, BTS says.
Shipments in July were up 2.4 percent from the same month in 2012, and year to date, shipments are up 1.8 percent compared to the end of 2012.
The index is a measure of month-to-month changes in shipments in tons and ton-miles and measures the output of the for-hire freight transportation industry.