For more than 30 years, motor carriers have used electronic payment systems – also known as fleet cards – to control the cost of fuel and other operations. If it seems as though the technology hasn't changed much, you're right: The basic features – such as daily purchase limits and capturing point-of-sale information – always have been there.
One thing that has changed, however, is the amount of purchase detail the technology can capture and control. Some fleet cards now use "Level 3" data that enables users to limit transactions to specific product codes.
Shell's Fleet Navigator Card serves larger fleets that want more expansive and flexible controls. The card uses Level 3 data to allow customers to restrict purchases for each card to specific fuel products such as regular or premium gasoline or diesel. Users also can enforce corporate spending policies for nonfuel items by using the universal MasterCard option.
Reporting speed and capabilities also have evolved. In years past, reporting meant monthly, weekly or perhaps even daily summary reports of purchasing activities. Today, historical and real-time transactions can be analyzed instantly and presented in ways that help managers and drivers make smarter decisions.
Opportunity costs
One way fleets are encouraging drivers to fuel at lower-cost locations is by showing them the actual costs of their decisions.
Comdata's FleetAdvance service, available for a monthly fee, gives each fuel transaction a score based on the net price customers have negotiated with truckstops, such as cost plus or retail minus.
The score is on a scale from 1 to 100 and shows how each fuel transaction compares to the lowest possible transaction at another location in the same market segment of the customer's fuel network.
Fleet managers can view fuel transactions as they take place on a Google Map display. Each transaction is color-coded green, yellow or red for easy reference. FleetAdvance has other analytical tools to calculate and compare the actual savings or excess costs incurred by each driver.
WEX FleetOne's universal fleet card offers an Opportunity Report that benchmarks monthly fuel transactions for each driver against all WEX card transactions in the same ZIP code. The report identifies each driver by color – green, yellow or red – for fleet managers to compare driver performance quickly.
WEX also has fuel apps drivers can use. Its Octane app, available on both Apple and Android devices, is geared toward drivers who buy fuel in local and regional operations. By using the device's location, the app gathers real-time fuel price information within a five-mile radius. It also has spoken turn-by-turn navigation to guide drivers to their selected fueling location.
Long-distance drivers using the WEX FleetOne card can use the FuelBook app. In addition to fuel prices, FuelBook shows information about truckstop amenities.
Virtual cards
Fleets also use software integration to cut costs and improve efficiencies of their purchasing activities. Virtual card programs make it possible to issue an instant payment to a vendor or third party directly from an accounting or maintenance system. When an invoice is approved for payment, a virtual card number is generated for a specific amount for a single use.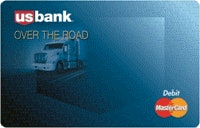 U.S. Bank offers a virtual card program through its corporate payments group. It has a similar feature that allows fleets using its U.S. Bank Over The Road Plus fleet card to transfer funds to drivers instantly. Corporate funds can be transferred to an individual driver's card if the driver needs to make an additional purchase, such as for diesel exhaust fluid.
Going cardless
The technology also has evolved beyond the need to use a physical card to purchase fuel. A growing number of truckstops have equipped their fuel lanes with Z-Con from EFS and SmartQ from Comdata. Rather than swiping a card and entering a PIN, the systems use wireless technology that sends a validation signal from the pump to a transmitter in the truck, ensuring the proper vehicle is at the fuel pump to authorize fueling.
Cardless fueling will not eliminate the need for drivers to carry cards since they still need them to make nonfuel purchases. Although the basics have stayed the same with fleet cards, recent developments demonstrate that opportunities to expand their capabilities remain.