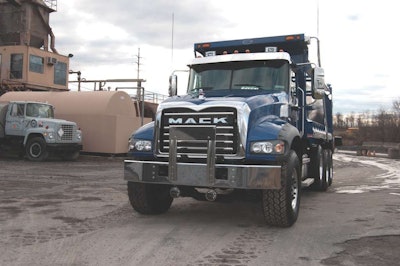 For doubters of Mack's ability to gain meaningful marketshare in the U.S., John Walsh, the truck maker's Vice President of Marketing, has a request: Just watch.
Mack closed last year with 8.9 percent marketshare and Walsh says the company is likely to come close but is unlikely to meet that mark this year as its core markets struggle under economic conditions.
And Walsh says his company's successes can only be measured on the fields where it does battle, and it's become highly successful fighting those fights.
"We play in refuse (market)," Walsh says, "and we continue to be the dominant player in that market."
Construction, traditionally a very strong segment for Mack, has all but disappeared in the wake of the economic recession.
"If that could get back to a normal level, we would become a double digit player in overall marketshare," Walsh says. "We've not lost customers, but they're not buying."
[youtube iW8Cm1iYjIA nolink]
Mack isn't sitting around waiting for conditions to improve. Walsh says the company is being proactive in changing the things it can control, and that includes bolstering its focus on the regional haul market.
"We're doing very well in that segment," he says. "When the construction market disappeared, we focused our organization and dealers to sell regional haulers again. We feel very good about where we're positioned in that market today."
Walsh also notes that Mack doesn't even do business in a market segment that sees a large volume of trucks bought and sold.
"The tuckload segment of the market is not where Mack plays," Walsh says, adding truckload is a core business for its Swedish sister, Volvo Trucks. "That means we're out of half of the market."
By not servicing a significant portion of truck buyers in the market, Walsh says the company's expectations aren't to be an overall leader, but to dominate in the markets where it does business.
"Are we ever going to be a 30 percent player in the market? No, he says. "But we will be a double digit player in the market again."
Walsh further adds that Volvo Group, the parent company for Mack and Volvo Trucks, can become the leader in combined marketshare in the business.
As of August this year, Mack has delivered 12,167 units in North America, a 25 percent dip from 2012.