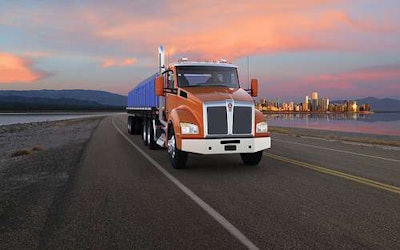 The Kenworth T880 – the flagship of Kenworth's vocational trucks lineup – is now available for order.
Introduced at the 2013 Mid-America Trucking Show, Kenworth says the T880 is suited for vocational customers who demand a durable and reliable truck, including dump, mixer, refuse, and heavy haul applications.
The Kenworth T880 is standard with the PACCAR MX-13 engine rated up to 500 hp and 1,850 lb-ft of torque. The PACCAR MX-13 provides a lightweight, fuel-efficient engine for vocational applications, including dumps and heavy haul applications over 100,000 lbs. The T880 can be ordered with a 116.5-inch BBC hood optimized for the PACCAR MX-13 engine or with the 122.5-inch BBC hood.
The Kenworth T880 features a panoramic windshield for enhanced visibility, quiet cab with triple-sealed and robust doors, 5-piece Metton(R) hood for easier and faster repairs, air-assisted hydraulic clutch, complex reflector headlamps, excellent maneuverability, and new lightweight, factory-installed lift axles. Kenworth designed the T880 with distinctively sculpted lines that form an evolutionary, but uniquely Kenworth look.
The T880 uses Kenworth's 2.1-meter wide, stamped aluminum cab, which is robotically assembled. The cab has a comfortable 23 inches of room between the seats. The T880 offers the premium Diamond VIT and Vantage trim levels and two interior color options of Sandstone Tan and Slate Gray.
"The Kenworth T880 offer truck operators and fleets a very comfortable work environment for drivers, lower operating cost and enhanced productivity," said Preston Feight, Kenworth assistant general manager for sales and marketing. "The T880 builds upon Kenworth's 90-year heritage of quality, innovation and technology to produce industry-leading, rugged and reliable vocational trucks. We're excited to bring the T880 equipped with the fuel-efficient PACCAR MX-13 engine into the market to benefit customers in demanding applications."