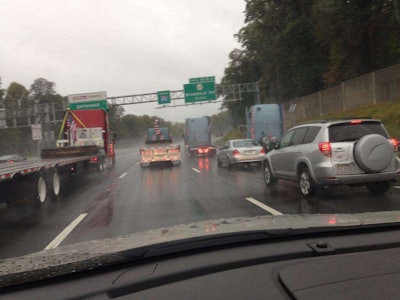 Thousands? No. Just one lane? No. pic.twitter.com/efycACHgAb

— John Domen (@JDonWNEW) October 11, 2013
The Ride for the Constitution driver protest convoy scheduled for Friday, Oct. 11, has largely been deemed a bust by national and local media outlets, had little effect on traffic and failed to gain much attention from lawmakers, as it intended, reports from D.C. say.
Roughly 30 trucks showed up for the protest convoy. The event's organizers had said thousands of truck drivers were planning to overtake the Capital Beltway — I-495 in D.C. — to cause traffic jams in an attempt to get the attention of Congress.
The protest convoy was part of a larger planned "shutdown" (trucker strike) and a buy-nothing protest. The movement, especially the convoy, received much attention from national media last week, including the likes of Fox News, USA Today, CNN, Gawker, Politico and The Washington Post.
#TruckersRideForTheConstitution #T2SDA are off! :) —> pic.twitter.com/cMUAox0ixl

— LizzieFiles (@LizSchmidt3) October 11, 2013
In an interview with Fox News, protest organizer Ernest Lee said some 10,000 truckers would be participating in the Ride for the Constitution.
However, support for the protest and convoy began plummeting in the middle of last week due to lack of organization and some hefty credibility issues with its chief organizers.
Many truckers had also expressed their non-support for the protest. Moreover, the American Trucking Associations and the Owner-Operator Independent Drivers Association both released statements saying they were against the effort.
Here's a roundup of headlines about Friday's small turnout:
Fox News: Dozens, not thousands, show up for DC trucker protest
The Washington Post: Trucker protest hits Beltway but causes no major delays
USA Today: Truckers 'rolling protest' hard to spot around capital
Politico: Trucker protest a bust