USA Truck Inc. has filed a breach of contract lawsuit against Knight Transportation Inc. for, among other things, improperly using confidential information in its bid for the Arkansas-based carrier, USA Truck said in a news release Thursday evening.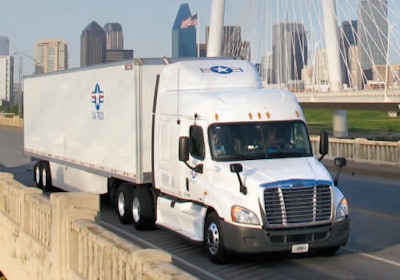 Knight's acquisition attempt includes an offer of $9 per share, a price the USA Truck board has unanimously rejected. USA Truck asks the Circuit Court of Crawford County (Ark.) to "restore a level playing field" by requiring Knight to divest the shares it acquired in the alleged violation of the confidentiality agreement.
"Knight is doing exactly what it promised not to do: use confidential information that it was provided in the context of friendly and private discussions," the USA Truck statement says.
The struggling carrier, which hasn't turned a profit in eight quarters, claims Knight's "creeping hostile takeover" undervalues the company and impedes the recent turnaround efforts by a new management team.
The suit comes two weeks after Phoenix-based Knight (#25 on the CCJ Top 250) went public with its offer, appealing directly to the shareholders of USA Truck (#44 on the CCJ Top 250).
Knight subsequently revealed it had increased its stake to 11.3 percent of the target company. USA Truck responded that it was "disappointed" by the initial Knight release and called Knight's statement "misleading" in regard to board's rejection of the offer. USA Truck said that Knight had rejected an offer to meet to discuss USA Truck's reasoning on the matter.
In response, Knight likewise claimed to be "disappointed," and said the appeal to USA Truck shareholders had been well received.
According to the lawsuit, Knight's recent public statements "have made clear" that Knight intends to further violate the confidentiality agreement.