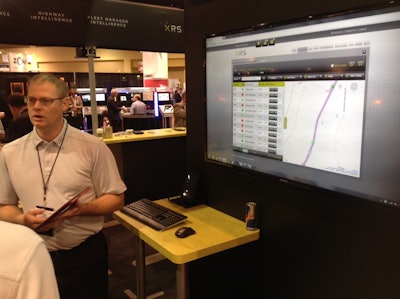 XRS Corporation, a provider of mobile trucking intelligence, announced at the American Trucking Association (ATA) Management Conference and Exhibition that the company is real-time testing a new remote diagnostics platform from Navistar, Inc.
The new system – Navistar OnCommand Connection – is the first single remote diagnostics portal to use an open architecture system, allowing direct interfaces with existing telematics providers. The system is designed to increase vehicle uptime by supporting quicker repairs and controlling maintenance and repair costs. Navistar OnCommand Connection will be available beginning in January 2014.
XRS is a platform-independent, mobile fleet management application. It can be deployed on the optional driver display in Navistar International vehicles.
"As more fleets embrace mobile telematics, drivers and fleet managers increasingly want comprehensive, all-in-one systems that incorporate the best and most essential tools for trucking intelligence," said Brendan Reidy, president, chief operating officer and chief technology officer for XRS Corporation. "An open-architecture system like Navistar OnCommand Connection gives our customers a new level of compatibility that will improve performance and efficiency, while making our industry safer and more productive than ever before."
Due to EPA regulations and OBD compliance requirements, there are an unusually large number of different fault codes, making diagnostics complex for drivers and fleet managers. Navistar's OnCommand Connection helps de-code fault data in real time to communicate each fault code's level of severity and determine appropriate actions. The system uses diagnostic data to create simplified vehicle health reports, leading to quicker repairs, better controlled maintenance procedures and more predictable repair costs.
"By partnering with our customers' existing telematics providers such as XRS, we can pull diagnostics-related data and create easy-to-understand vehicle health reports," said Nadine Haupt, director of powertrain product marketing for Navistar. "The visibility into the operational health of the vehicle empowers customers to understand the severity of vehicle issues and determine the appropriate actions, ultimately leading to increased uptime."
OnCommand Connection directly interfaces with the Navistar Repair Advocate and Dealer Directory tools, allowing customers to view action steps, vehicle location and proximity to the nearest service location. The company anticipates it will be able to support a majority of the industry's customer base, including most vehicle makes and models.
Navistar will announce pricing in conjunction with the January launch.