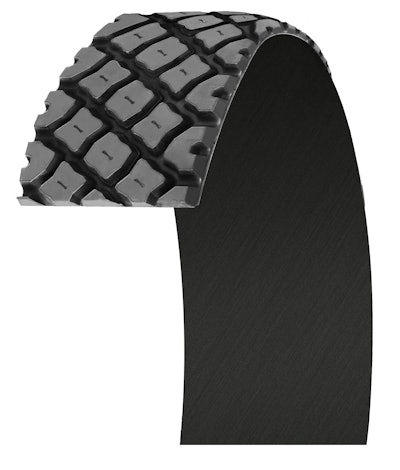 Michelin Retread Technologies today announced the launch of the Michelin XDY-EX Pre-Mold retread, a drive position retread built for demanding off-road applications. The XDY-EX retread delivers exceptional durability and is designed for single and tandem axle service in severe applications such as logging, mining and construction.
"The Michelin XDY-EX Pre-Mold retread performs in even the most grueling conditions due to its combination of tread design and proprietary compound technology that delivers more uptime and excellent traction," said Ted Becker, vice president of marketing for Michelin Americas Truck Tires, a division of Michelin North America, Inc.
Designed for 70 percent or more service in off-road driving conditions, the XDY-EX retread accepts chains and is available in 220 and 230mm sizes; the 240 mm size will be available in December. The raised-block sculpture has a deep 32/32nd tread that delivers exceptional traction, and a proprietary compound technology contributes to greater wear resistance. The retread also features stone ejector ledges on the side of the tread grooves that help resist stone-drilling, increasing the service life of the casing.