This past Spring, an experienced driver at Transport Distribution Company (TDC) noticed his fuel scores were increasing, day after day.
A few weeks earlier, Steve Page, vice president of safety for Joplin, Mo.-based TDC, placed an Android device in the driver's truck with an application called PedalCoach. He gave the driver a simple instruction: "Keep this thing in the green."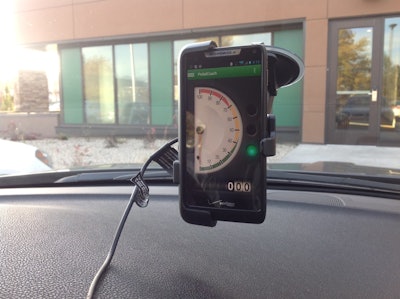 The needle on the gauge represents the rate of fuel flowing to the engine. The "green" is the area that represents a fueling target; it is the appropriate amount of fuel for the truck at any given moment.
To determine the fueling target, PedalCoach connects to the vehicle's J1939 databus to perform instantaneous calculations of ECM data. Its patent-pending algorithms can infer a lot about the truck and its operating environment, starting with the first acceleration event and continuing thereafter. The software knows, for example, whether or not the truck is pulling a trailer and how much it weighs.
"The driver can feel how much he's got, and so can we," says Jeff Baer, founder and chief executive officer of LinkeDrive, developer of PedalCoach. Baer, a mechanical and systems engineer, spent part of his career as an engine calibrator for Ford Motor Co.
Drivers that stay in the green, he says, are efficiently creating and preserving momentum. "The green zone represents the equilibrium between driveability and fuel economy," he explains.
Drivers don't have to be staring at the digital gauge to know if they are in the green. An audible tone notifies them if they cross into yellow or red. They also hear the "cha-ching" of a cash register every time they complete a mile in the green.
At the end of every trip (an ignition on/off event), PedalCoach displays the driver's score on a scale of 0 to 100. The score answers the question: "Did you do the best you could with what you had?" Baer says.
Before using PedalCoach, TDC's driver averaged 5.8 mpg with a 14-liter engine. Within a few weeks of using PedalCoach the driver was getting 6.8 mpg consistently, Page says. "Keeping it in the green" proved to be an enlightening exercise.
"He was trying to sell me on what he was doing to change the score," Page says. "The things he was trying to sell me on were the things we've been preaching all along. He calls it, 'learn to feather the pedal.' We call it 'reduce RPMs.'"
This type of real-time adaptive fuel coaching is a paradigm shift for TDC. Before using PedalCoach, TDC trained drivers in face-to-face meetings. Page downloaded ECM data with "DDEC" reports to reinforce positive behaviors, like progressive shifting and "time in top gear." He also pointed out negative behaviors like hard braking and speeding.
The DDEC reports were run once every 18,000 to 19,000 miles during service intervals.
"The problem with this method is that it took several weeks before drivers knew whether or not they had achieved the fuel bonus," Page says. "By then, drivers didn't remember what they did wrong."
Page also looked at weekly snapshots of ECM data from the company's telematics provider, Omnitracs.
"It helps you with the worst guys," he says about the weekly fuel reports. "But you are still talking to them based off of information that is gathered by generalization."
The DDEC and Omnitracs reports do not account for how well drivers performed under the circumstances which always left room for excuses, he says. Drivers always said they were in a hurry to make appointments. With PedalCoach, drivers are now constantly aware of their fuel performance and can compare themselves to other drivers in the fleet.
"You start learning how to drive that truck," Page says. Overall, the company has realized a 12 percent improvement in mpg in six months using the software with a variety of drivers.
Click to see how these carriers are using next-gen driver performance systems:
Covenant Transport (Chattanooga, Tenn.): FuelOpps
Terpening Trucking (Syracuse, N.Y.): Vnomics In-Cab Advisor
SmartDrive Systems: Fuel Economy mobile app
Load One (Taylor, Mich.): Stay Metrics Drive for Gold