Editor's note: This is the final installment of a 3-part series on next-generation driver training technologies. Part 1 covered video-based risk management systems. Part 2 explored online and computer-based learning.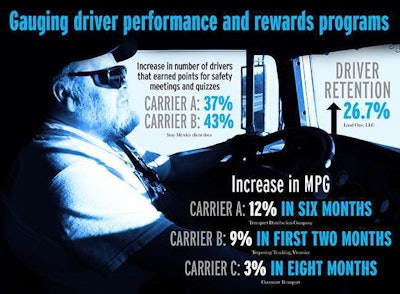 For 2,200 drivers at Covenant Transport, every day is another chance to reach the summit of fuel efficiency. Some will be towing 80,000 pounds up the Rockies. Others will be rolling through Texas with 36,000 pounds and a strong tailwind.
No matter the conditions, everyone is on the same, level playing field.
Last year, the Chattanooga, Tenn.-based truckload carrier (CCJ Top 250, no. 33) started using a fuel efficiency application, FuelOpps, by Propel IT. The application feeds data collected from its vehicles' electronic control modules (ECMs) into algorithms that score and rank drivers by fuel performance.
The algorithms look at three categories of mpg — the ones drivers directly control: acceleration, shifting and cruising. Through an online interface, drivers see their results daily on a horizontal scale of 1 to 10. They also see their peer group ranking: "You are placed 11 out of 259."
The same information is sent daily to the in-cab computing platform from Omnitracs. Occasionally, drivers get a more targeted message with advice on how to improve in progressive shifting and other areas.
Everyone that has a FuelOpps score in the top half percentile gets points each day. They can earn extra points for keeping their score in the top quartile for the entire month.
FuelOpps is not just a game. The rewards and results are real. Top drivers at fleets using the program can earn the equivalent of $130 to $170 a month, says Yunsu Park, chief technology officer for Propel IT. Drivers can redeem points from an online catalog of consumer goods.
In the past eight months, Covenant has improved its fleet mpg by more than three percent. Overall, the return on investment of the program is about 50 percent or $1.50 of fuel savings for every dollar spent on the program, says Doug Schrier, vice president of continuous improvement and internal audit.
Technology can give motor carriers the opportunity to extend driver training to a real-time, mobile environment. The following fleets are riding a new wave of driver performance systems to automate fuel training and engage drivers with friendly competition.
See how these carriers are using next-gen driver performance systems:
Transport Distribution Company (Joplin, Mo.): PedalCoach
Terpening Trucking (Syracuse, N.Y.): Vnomics In-Cab Advisor
Load One (Taylor, Mich.): Stay Metrics Drive for Gold