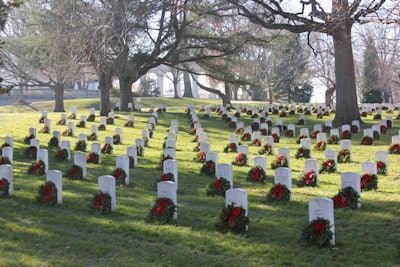 Karen Worcester watched the Gold Star mother meticulously lay a wreath by a headstone in section 60 of the Arlington National Cemetery. The mother paused and ran her fingers across her son's name engraved in the white marble.
The year was 2007 and it would soon be the first of many Christmases her son would not be coming home. Both women were crying as the mother stood and placed her hands on Worcester's shoulders.
"Karen, don't remember my dead son. Remember that he lived and it was his life that he sacrificed."
This is one moment Karen Worcester will never forget. She and her husband, Morrill, have been coming to Arlington every year to lay wreaths since 1992. One reason they do this, she says, is for the Gold Star parents who cannot afford to come to the annual wreath-laying ceremony to pay tribute to their sons and daughters.
Since 1992, the Worcesters have personally donated at least 5,000 wreaths each year from their family business, Worcester Wreath, in Harrington, Maine.
In 2005, a photographer for the Pentagon captured the dark-green wreaths with red ribbons adorning the white, orderly rows of marble headstones. A light snow cover perfected the grounds. The picture went viral on the Internet. In an instant, the Worcester family project received national attention.
Thousands of phone calls and e-mails poured in and so did unsolicited donations for wreaths. The Worcesters sent the money back. Laying the wreaths at Arlington, they explained, was a family project. But the requests kept coming from people who wanted to place wreaths in cemeteries nationwide.
The Worcesters responded by donating a set of wreaths to numerous cemeteries. Each set contained wreaths for each branch of the military and one for the POW/MIAs. In 2006 they decided to accept donations and began sending individual wreaths. In December, 2006, tens of thousands of donated wreaths were sent to nearly 200 locations. All were delivered free by volunteers in the trucking industry.
In 2007, the Worcesters created a non-profit organization, Wreaths Across America (WAA), with one simple mission: Remember, Honor, Teach. The organization now has 600,000 volunteers. "People understand that we have what we have because of these (military) families and their sacrifice," she says.
James Prout, owner of Blue Bird Ranch in Jonesboro, Maine, was the first volunteer for transporting the wreaths to Arlington, Va. He delivered 5,000 wreaths in 1992. This year, on Dec. 14, more than 500,000 wreaths will be delivered to 900 locations stateside, all with donated trucks and trailers.
"We could not do it without the trucking industry," Worcester says.
Many of the largest corporate sponsors for Wreaths Across America are in the trucking industry. They include Wal-Mart, Qualcomm, Pottle's Transportation and Randall-Reilly, which owns CCJ and Overdrive.
"We are grateful for the opportunity to honor our veterans and for all the hard work and countless acts of service that make this event possible," said Mike Reilly, chairman of Randall-Reilly in Tuscaloosa, Ala.

Scott and Lorna Harris of Patton, Me., became involved in WAA four years ago. Scott Harris, an owner operator, hauls potatoes during the growing season in dedicated routes from Aroostook County, Maine, to Eastern Pennsylvania and upstate New York.
On Dec. 7 he will again join the convoy of eight trucks from the Worcester Wreath plant in Harrington, Me., to Arlington. The convoy will stop at several locations along the way for WAA ceremonies that honor veterans.
"Every stop is phenomenal experience," he says. In contrast to his regular workday where most people have a negative attitude towards truckers, the entire week of the WAA convoy is a "good feeling," he says.
Last year, one experience stood out above the rest. Harris was leading the convoy as it left the Massachusetts Turnpike and entered the village of Westfield, Mass. Thousands of people, from senior citizens to children, were lined up on both sides of the street waving flags.
"Lorna and I were looking at each other with our mouths open thinking 'what a turnout,'" he says. "It gives you a feeling that there are still a lot of people out there that care."
The Harris' lost their son, Army Spc. Dustin Harris, on April 16, 2006, to a roadside bomb. Dustin was 21-years old and serving in Operation Iraqi Freedom. He was assigned to the 172nd Brigade Support Battalion and the 172nd Stryker Brigade Combat Team, out of Fort Wainwright, Alaska.
Dustin enjoyed the trucking industry, especially the chance it gave him to work with his hands, Scott says. He was always eager to help with maintenance and repairs. After high school, Dustin completed a two-year course on diesel mechanics at a local community college.
He was a senior in high school during the terrorist attack on September 11, 2001. Like most of the kids his age, the events hit him hard, Scott says.
"We kind of held him off on joining (the military)," Scott says. "He went to community college for a couple of years but he really wanted to join the service."
In 2010, the first year Scott was in the convoy to Arlington, he laid wreaths on the graves of soldiers with the captain of his son's Army regiment, along with the captain's wife and children. Scott and Lorna Harris plan to lay a wreath on Dustin's headstone in Patten, Maine, after they return from Arlington. Harris plans to keep a wreath on his grill until January.
On Tuesday, Nov. 26, Morrill and Karen Worcester gave away 1,000 wreaths at a Pilot Travel Center in Milford, Conn. The first 1,000 truckers received two matching wreaths. They placed one their grills. The other will be placed in the Arlington National Cemetery on a veteran's headstone in their name.
Drivers who are participating in this rolling tribute are supposed to pull over on Dec. 14, known as Wreaths Across America Day, and remove the wreath from their grill and place it on a veteran's headstone wherever they may be in the country. Truckers can still purchase the "Trucking's Patriot Pair" of wreaths for $30 from www.truckloadofrespect.com.
"This idea started after seeing many of our volunteer professional drivers participating in the annual escort to Arlington remove the wreaths affixed to the grill of their rigs, and place it on a headstone once we made it to the cemetery," said Morrill Worcester. "This very personal expression of gratitude was shared in pictures and online and became a symbol of how dedicated the trucking industry is to supporting our nation's military."
WAA is asking all drivers participating in the rolling tribute to photograph and share their experience on Twitter, Facebook and other social media using #rollingtribute.
Approximately 150 full truckloads of wreaths will be unloaded at 900 locations on Dec. 14. The Truckload Carriers Association (TCA) is managing the logistics this year for WAA. Most loads will be picked up in Maine. Many will also be picked up from warehouses in Chicago and Kansas for distribution out West.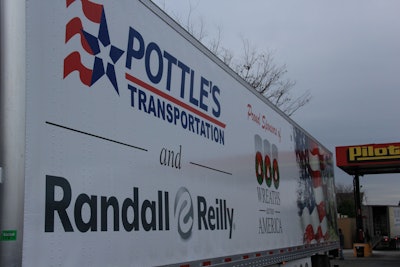 Barry Pottle, president of Pottle's Transportation in Bangor, Maine, personally managed the logistics for WAA for six years, from 2006 to 2011. The project became too much for one person to handle, he says. In 2012, Pottle asked the serving chairman of TCA, Robert Low, president of Prime Inc., for help. TCA and its members quickly responded.
Each wreath weighs three to four pounds. The cost to sponsor a wreath is $15. Without the help of the trucking industry, the cost would more than double due to postage, says Karen Worcester.
"It boggles my mind how they (trucking companies) come together and work it out," Worcester says.
In order for the TCA to schedule deliveries, the cutoff date for sponsoring and ordering wreaths is Monday, Dec. 2, says Pottle, who is still heavily involved in the program. For more information on sponsoring a wreath, visit www.truckloadofrespect.com or www.wreathsacrossamerica.org