End-of-the-year freight activity lived down to expectations in November, while spot rates held and intermodal traffic set a volume record for the month.
CASS: North American freight volume was down slightly and expenditures up slightly in November from October, but both showed improvement compared to the year before, according to the latest Cass Freight Index Report.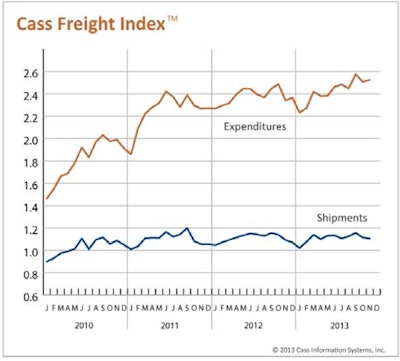 The slowdown was "not unexpected" and follows pattern of year-end weakness going back three consecutive years, notes Delcan Corp.'s Rosalyn Wilson, who provides supply chain analysis for Cass.
The November shipment index was 1.1 percent higher than a year ago and 4.6 percent higher than November 2011. On a month‐to‐month basis, November's 1 percent drop was an improvement on the 3.5 percent drop reported in October.
Stronger-than-expected manufacturing activity and shipments of seasonal goods offset a general slowing of freight movements to temper the drop in shipment levels.
Freight expenditures for November rose 0.6 percent, with virtually all of the increase attributable to strong spot market rates in the last two weeks of the month.
"We're seeing mixed economic signals as we approach the end of the year. Many indicators have improved during the last several months, including new home sales, new jobs, new export orders, and manufacturing production, new orders and backlog," says Wilson. "Exports rose in recent months, but largely based on the strength of oil product exports. Container exports and imports, largely aimed at the consumer market, have trended downward.
"Despite the better than expected third quarter GDP, the fourth quarter will not be as strong. December is likely to provide a weak finish to a relatively weak 2013 for the freight industry."
Transcore: A closer look at the last week of November's spot activity confirms across-the-board pricing upticks, though volume for the short holiday week was predictably slow, according to DAT Trendlines.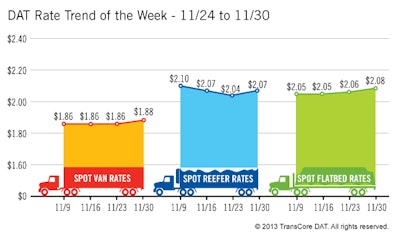 Spot van rates rose 2 cents in final week of November to $1.88 per mile (with fuel) and closed November up 4 cents (2.2 percent) higher than October. A typical end-of-month surge in activity, which came early with the short holiday week, helped push rates up. Flatbed (up 1 percent, $2.08) and reefer (up 1.5 percent, $2.07) also posted gains on the sport market for the last week of November.
Spot market loads, however, were down 20 percent, though capacity was off 25 percent over Thanksgiving.
Compared to October, the month of November saw a 10 percent drop in spot market loads and 12 percent decline in capacity. Still, compared to November last year, spot loads are up 11 percent.
Year-over-year, van rates were up 2.7 percent while spot rates have dropped for both flatbed (down 5.5 percent) and reefer (down 0.5 percent).
AAR: Intermodal traffic in November totaled 1,007,549 containers and trailers, up 7.8 percent (73,004 units) compared with November 2012, the Association of American Railroads reports. The weekly average of 251,887 intermodal containers and trailers per week was the highest weekly average for any November in history.
For the first 48 weeks of 2013, U.S. intermodal units are up 4.3 percent from last year.
"U.S. rail traffic in November saw a big decline in coal carloads that was more than offset by gains in carloads of grain and petroleum products," said AAR Senior Vice President John T. Gray. "Carload traffic continues to be consistent with an economy that's growing at a moderate pace. Meanwhile, rail intermodal volume was extremely strong in November, demonstrating the tremendous value that intermodal has become for rail customers."