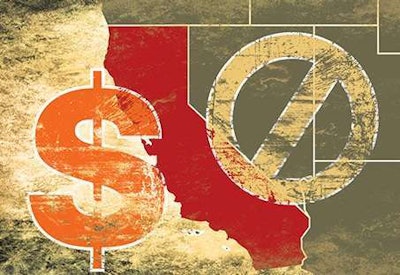 The Owner-Operator Independent Drivers Association has sued the California Air Resources Board over the agency's requirement that 2006 year-model and older trucks be retrofitted with a particulate matter filter to run in the state, alleging the regulation is unfairly costly, not beneficial and unconstitutional.
OOIDA filed the suit Dec. 6, asking the court to permanently stop CARB from enforcing the retrofit regulation for truck owners and operators who live outside of or primarily conduct business outside of California. OOIDA says the rule violates the Commerce Clause of the U.S. Constitution and discriminates against out-of-state truckers.
CARB's rule, which begins Jan. 1, requires that year-model trucks 1996-2006 be retrofitted with a diesel particulate filter to operate in the state or potentially face hefty non-compliant fines.
OOIDA's lawsuit, filed in the U.S. District Court in the Eastern District of California, says the regulations "have caused and will continue to cause irreparable injury to these truckers who have effectively been shut out of the California market because of the costs of compliance.
Moreover, OOIDA alleges in its suit that the CARB regulations will "not result in any measurable global climate change, nor in any measurable reduction of the effects of global warming," thereby not justifying the costs for truck owners to comply.
With its filing today, OOIDA became the third party to have an active suit against CARB over its Truck and Bus Regulation, as the California Construction Trucking Association filed a suit in March 2011 and has appealed on-decisions in the case since — the most recent of which coming in January of this year — and the Alliance for California Business filed a suit last month claiming CARB failed to note defects and potential fire-causing dangers of the required particulate filters.
Jim Johnston, OOIDA's president, says out-of-state operators are disproportionately adversely affected by the rules, as they have to spend the same amount of money as in-state operators to comply even though they run much fewer miles in the state. "CARB has overstepped its bounds by requiring trucks from other states to be upgraded in order to operate in California," Johnston said.
Karen Caesar, Information Officer for CARB, says the agency does not comment on pending litigation.
CARB has announced various proposals in recent weeks to either postpone deadlines or offer exemptions for some out-of-state drivers. Click here to read more on them.