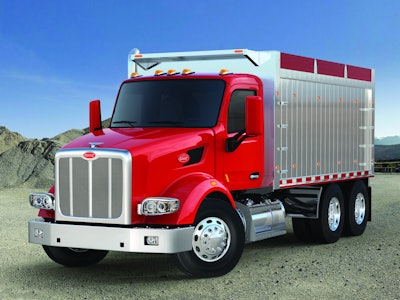 The newest addition to Peterbilt's vehicle lineup – the vocational Model 567 – is now in full production. The truck or tractor can be configured to meet a wide range of heavy- and severe-duty applications, Peterbilt Motors Company recently announced.
"Assembly is in full swing for the Model 567 with strong demand for our new model in many different markets. The durability and versatility of the Model 567 make it ideal for dump, mixer, heavy haul and refuse applications," said Robert Woodall, Peterbilt Director of Sales and Marketing.
Peterbilt unveiled the new model earlier this year during the Mid-America Trucking Show in Louisville, Ky. It was developed through the most extensive product research and development in the company's long history of vocational models and endured rigorous testing at the PACCAR Technical Center in Mount Vernon, Wash.
"Peterbilt's Model 567 can be ordered in 121- and 115-inch BBC lengths with a wide variety of heavy-duty components and axle configurations for increased payloads and optimized weight distribution," said Woodall. "It has a set-back front axle that provides excellent maneuverability and a tight turning radius. Combined with the panoramic view from the cab, operators will enjoy enhanced visibility and productivity throughout virtually every jobsite condition."
The Model 567 is standard with the PACCAR MX-13 Engine with up to 500 horsepower and 1,850 lb-ft of torque and can be ordered as a day cab or with Peterbilt's complete line-up of detachable sleepers.
Durable, Versatile Design
Peterbilt says the Model 567 is lightweight, yet durable to provide many years of service. The all-aluminum cab of the Model 567 is enhanced with strategically positioned steel reinforcements. "For additional strength and cab stability, steel upper A-pillars and rear corner reinforcements have been added," said Landon Sproull, Peterbilt Chief Engineer. "The large cast aluminum front cab mounts distribute road stresses evenly, reducing road-induced wear and improving ride quality."
Durability is further improved with the Model 567's Metton® hood that is highly resilient and can absorb many impacts that would shatter or crack other materials. The vehicle also features Peterbilt's signature stainless steel oval mesh grille and surround, and the hood pivot system has a protection function that directs energy around the cooling module in the event of an impact.
The Model 567's chassis is designed to maximize strength while minimizing weight for increased payload capacity. The chassis is 10 to 15 percent stiffer than comparable products for improved maneuverability, ride and handling. The clean frame rails facilitate ease of installation for various bodies, auxiliary axles and hydraulic tanks.
Outstanding Operator Environment
Panoramic visibility, superior ergonomics and best-in-class operator amenities combine to provide operators with improved productivity and safety.
Maximum forward visibility is achieved through a panoramic windshield that features integrated locaters in the cab structure to allow for high-quality and time-efficient field repairs. A-pillars have strategically placed supports for added strength, allowing them to be 13 percent narrower than other designs, further enhancing visibility.
The forward lighting system on the Model 567 is a proven design that significantly enhances down-road visibility and reduces driver fatigue. The headlamps feature projector module low beams, which have a 2,000 hour lifecycle, and complex reflector high beams. Peterbilt's signature pod-mounted design helps protect the headlight from potential damage to the fender, common occurrences on congested jobsites.
According to Sproull, the Model 567's interior combines ruggedness and durability with comfort and performance for the vocational market. The new interior begins with a spacious 2.1 meter-wide cab that provides a quiet environment that reduces driver fatigue and improves efficiency.
"A key consideration of the Model 567 design is the driver-centric research and planning process Peterbilt engineers used to develop the new model," said Sproull. "We interviewed hundreds of drivers about their preferences to ensure the 567 cab would provide operators with the most desired, productive and comfortable operating environment."