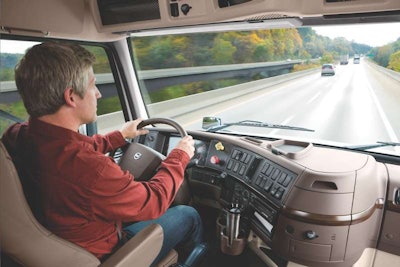 Drivers might be surprised at how quickly their phones will ring after submitting job applications to the Celadon Group online. Within seconds, a recruiter will be calling to help move them along.
Celadon receives thousands of applications each month. Most come through online job boards and are sent to dozens of other carriers simultaneously. The drivers Celadon really wants to speak to are those who apply through one of its own websites, which account for about 100 per month. These drivers are not just looking for a job but a job at Celadon.
As soon as a driver clicks the "submit" button, a software system in the background verifies that Celadon's minimum requirements have been met. A recruiter receives an automated phone call with an option to instantly connect to the driver.
About 75 percent of these pre-qualified leads will meet the company's additional requirements and receive job offers, says Dave Chesterman, director of recruiting for the Indianapolis, Ind.-based truckload carrier.
Speeding your pipeline
ACS, a Xerox company, developed the recruiting software used by Celadon called Virtual Recruiter, released in the Fall of 2012. Fleets that use the software today range in size from a couple hundred trucks to more than 1,000, says Dennis Veneklase, vice president of Digital Media for ACS Advertising.
Based on industry estimates, fleets spend between $3,500 and $8,000 to hire each driver. Technology can help reduce recruiting and hiring costs, but perhaps more importantly, can improve the quality of recruits and speed response time.
A number of software products can link online applications to databases that verify drivers' past employment and qualify them to move quickly through the pipeline.
McLeod Software and TMW Systems, the largest providers of enterprise transportation management software, have modules designed for this purpose as do a number of software providers who have honed in on this fast-growing market.
This year, McLeod added an online signature capture and authorization feature to its HirePower driver recruiting module. The features are part of its new Logix e-Forms online driver application. Once drivers fill out an online application, their information is instantly available to the workflow processes fleets set up in the system for recruiting, qualifications and anything else down the line, says Mike Ayersman, McLeod's national sales manager for imaging.
Fleets using the TMWSuite platform from TMW Systems, together with the company's Synergize imaging and workflow modules, can receive applications from drivers directly online or from electronic submission methods such as fax or e-mail. The data can be mapped to specific workflow procedures and business process rules.
EBE Technologies created an integrated, online process in its Ships Driver Recruiting platform that immediately validates driver qualifications against fleet standards. The system verifies work history and other items with information from its own database of clients and by integrating with external applications and services.
Qualified applicants are immediately scored and sent to recruiters based on the pre-defined workflow. As part of the process, EBE also has a driver portal that conveys the status of the application process to drivers.
The portal reduces the number of inquiries from drivers about the status of their applications. It also can speed the onboarding process by having drivers complete their payroll documents and other forms electronically before arriving for orientation, says Cindy Nelson, vice president of marketing.
Tenstreet's IntelliApp system speeds the application process for drivers with an auto-fill feature that draws information from its database of unique applications which contribute to over 2.5 million applications processed to date.
IntelliApp automates the collection of work history and employment data at the first point of contact with driver applicants. A separate platform, Xchange, integrates with IntelliApp to coordinate all of the data sources used in the verification process.
All of Tenstreet's software systems are now mobile compatible as driver recruiting has largely moved in that direction, says Hayley Hitchcock, vice president and director of marketing.
Predicting success
FleetRisk, a division of Omnitracs, can add a unique dimension to driver recruiting. The company has created a predictive model that uses a wide range of historical driver data to determine the profile of drivers who have the greatest likelihood for success in terms of longevity, productivity and other retention factors.
The driver profile is based on a set of "predictors," explains Vikas Jain, who leads the FleetRisk Advisors business unit of Omnitracs. The predictors are unique for each fleet. Some predictors might be what you would expect such as education, work experience and driving records. Other predictors may not be intuitive at all.
Jain says that some fleets have applied the predictive model to their recruiting process. FleetRisk Advisors has developed an integration with Tenstreet and EBE that shows where each applicant ranks according to the profile — in the top 10 percent, the next 10 percent, etc. Fleets might even consider offering applicants in the top 10 percent a better pay package, Jain says, due to confidence they have these drivers will succeed.
No technology offers an immediate fix to the driver shortage, but when it comes to recruiting and hiring qualified drivers, technology does make it possible to identify hot leads and close the sale, all within in a matter of seconds.