Editors note: this is the second installment of a three-part series on using advanced technology to recruit drivers. The first part covered software systems to speed the qualification of job applicants.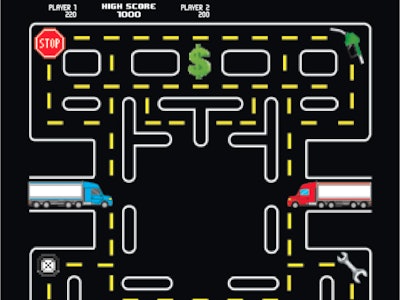 When looking for jobs, drivers might start with online searches, visit job boards, or go directly to websites of companies they are familiar with.
As they surf the Web, ads begin to appear on websites unrelated to trucking or in their social media news feeds. This phenomenon is called "remarketing," and it's all by design.
Intrigued, drivers may click a few ads and fill out some applications.
Research shows that by the time drivers – or anyone for that matter – concludes a job search, they have tapped 16 different resources for information, on average. The only buying decision with more "touch points" is an automobile.
With so many trucking companies vying for drivers' attention online, engaging drivers is a very competitive and complex business.
"Drivers are being targeted in so many different ways," says Dennis Veneklase, vice president of operations at Conversion Interactive Agency, a Brentwood, Tenn.-based company that provides recruitment, advertising and marketing services for transportation companies.
Keep it short
One way carriers can more effectively recruit drivers is to mobilize their online presence, he says. Whereas drivers once took the time to go to a carrier's website and fill out a long-form job application, they now expect the interaction to be fast and to the point.
More than 80 percent of drivers own connected mobile devices like smartphones, and nearly 70 percent of job applications today are being sent from mobile devices, he says.
Conversion Interactive Agency uses "responsive code" for the websites and landing pages it designs for carriers, he says, to deliver a smooth user experience on any device. He recommends giving drivers the option to complete short form job applications and have the systems and processes in place to respond quickly as qualified leads come in.
One option for responding quickly is a software system called Virtual Recruiter by Conversion Interactive. The system operates in the background of a carrier's recruiting website. As soon as the driver submits a short or long-form application, it verifies that the carrier's minimum requirements are met. It gives a recruiter an automated phone call with the option to instantly connect to the driver.
Target marketing
Recruiting drivers online is more complex than buying banner ads on websites, at least if the plan is to get to qualified leads faster than the competition.
Randall-Reilly provides lead generation services to carriers based on their specific hiring criteria and preferred driver types, says Nick Reed, the company's vice president of Digital Services. Randall-Reilly owns CCJ, Overdrive and other digital and print publications. Its lead generation abilities are enhanced by having an audience of drivers that engage regularly with its news and job sites like https://www.careersingear.com/ and https://www.bestdriverjobs.com/.
By collecting behavioral data, Randall-Reilly can create targeted marketing campaigns for clients, he says. For instance, using its audience data, it can show advertisements to drivers that have specific job experiences such as flatbed. Randall-Reilly is also using web retargeting technology, he says, to place ads for specific types of drivers based on behavioral data.
"We also do a lot of work through social channels by targeting drivers on Facebook and YouTube for advertising," he adds. When a driver is watching a video on YouTube, a pre-roll advertisement could be from a specific carrier that matches the driver's profile. These and other types of company-specific target marketing plans have a higher conversion rate of leads to hires, he says, since when drivers respond to an ad they will apply to work for a specific company.
Conversion Interactive provides a range of digital, targeted marketing services for clients.
"There is so much data out there and ways that we can leverage it to get drivers that are a better fit for carriers," Veneklase says. "You have to think much broader to remain competitive."
To manage the leads that come from Randall-Reilly, Conversion Interactive and similar types of services, carriers often use applicant tracking systems from EBE Technologies, Tenstreet, TMW Synergize, IEG Software and others. For more information about how these systems work, see part one of this series.
Next up: see how Maverick Transportation and Navajo Express are using technology to streamline their orientation and onboarding process to retain more drivers.