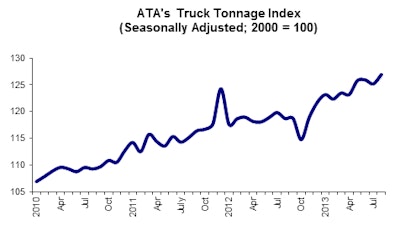 The amount of tonnage hauled by the for-hire trucking industry rose in November by 2.7 percent after declining in October by a revised 2.8 percent, according to the American Trucking Associations, who released its monthly Truck Tonnage Index this week.
The index rose to 128.5 — an all-time high. The index has set four all-time highs this year, all of them coming in the last five months, as the index broke the record in July then rose again in August and September.
The index also was up 8.1 percent in November from the same month in 2012, which ATA says is "robust."
Year to date, tonnage is up 5.8 percent through November compared to the same period in 2012.
ATA's Chief Economist, Bob Costello, says the tonnage increase is in line with other data. "Tonnage snapped back in November, which fits with several other economic indicators," said ATA Chief Economist Bob Costello. "Assuming that December isn't weak, tonnage growth this year will be more than twice the gain in 2012."
In all of 2012, tonnage increased 2.3 percent over 2011.
However, as he's cautioned in recent months about the surge in tonnage, Costello said the growth in spurred by "fast growing sectors of the economy that generate heavy freight loads, like residential construction, fracking for oil and natural gas and auto production," he said.