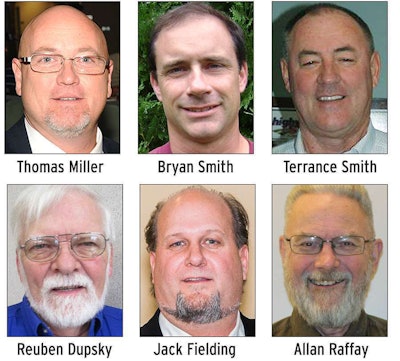 Six finalists have been named in the Truckload Carriers Association's and CCJ sister site Overdrive's annual Driver of the Year contests — three each for the Owner-Operator of the Year and the Company Driver of the Year awards.
All six will attend TCA's convention in March in Dallas, where the winners of each contest will be announced.
The owner-operator finalists are:
Thomas Miller, leased to Prime Inc., based in Springfield, Mo. Miller lives in Bunker Hill, Ill.
Bryan Smith, leased to Art Pape Transfer, based in Dubuque, Iowa. Smith lives in Asbury, Iowa.
Terrance Smith, leased to SLH Transport, based in Kingston, Ontario, Canada. Smith lives in Miramichi, New Brunswick, Canada.
The company driver finalists are:
Reuben Dupsky, Fremont Contract Carriers, based in Fremont, Neb. Dupsky lives in Fremont.
Jack Fielding, Bison Transport, based in Winnipeg, Manitoba, Canada. Fielding lives in McKellar, Ontario, Canada.
Allan Raffay, Prime Inc. Raffay lives in Hawley, Pa.
The finalists were selected based on safety, efforts to enhance the trucking industry's image, and contributions to their communities. Eligibility requirements included having driven one million consecutive, accident-free miles.
"It is always such a privilege to be able to work with professional drivers of this caliber," said Tom Kretsinger, Jr., president of American Central Transport, Inc., Liberty, Missouri, and TCA's chairman. "I wish we could give every one of them the title of 'Driver of the Year.'"