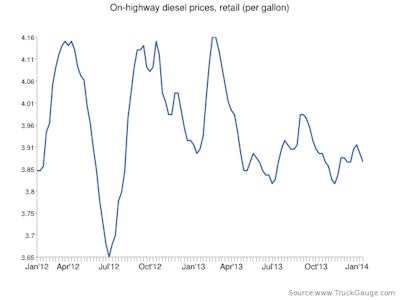 The national average price for a gallon of on-highway diesel now has fallen nearly 4 cents in the last two weeks, falling 1.3 cents in the week ended Jan. 20 to $3.873, according to the Department of Energy's Energy Information Administration.
That drop followed a 2.4-cent drop in the week ended Jan. 13 — the third largest drop since April 2013 — marking the two largest consecutive drops since late November.
The national average price in the most recent week was down 2.9 cents from the same week a year ago.
Regionally, prices mostly fell around the U.S., save for the East Coast region — where the price ticked up six-tenths of a cent and two of its subregions, the Central Atlantic (a 1.5-cent increase) and the New England region (a 1.1-cent increase).
The largest decreases came in the West Coast region and the West Coast less California region, where prices fell 3 cents per gallon. The price in the California region fell 2.9 cents and the Rocky Mountain region saw a 2.6-cent decline.
The New England region has the country's most expensive diesel for the second week in a row at $4.118 a gallon, followed by the Central Atlantic region ($4.060) and the California region ($4.056). All other regions are under the $4 mark.
The Gulf Coast region still has the country's cheapest diesel at $3.771, followed by the Lower Atlantic ($3.829) and the Midwest ($3.80).
Click here to see more of EIA's data.