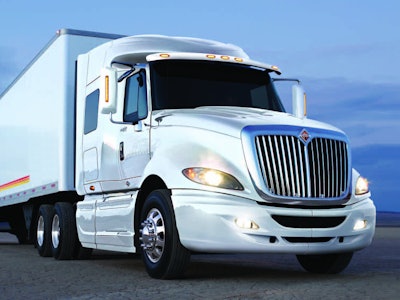 Navistar International Corporation announced that Truck-Lite high-visibility LED headlamps are now standard on International ProStar Class 8 on-highway trucks.
"LED headlamps offer significantly longer life over traditional halogen lamps while also emitting a more natural light than improves visibility for the driver," said Steve Gilligan, vice president, product planning and information, Navistar, Inc. "LED lights have been an option on the International ProStar for several months and we are excited about making the solution standard equipment on our ProStar model."
The light color emitted by LED headlamps mimics daylight to help reduce eye strain common with night-time driving, thereby reducing driver fatigue. The powerful light beam produced by LED lights also adds significant peripheral road clarity, as well as increased forward visibility. LED lights on the ProStar will also feature a custom coating on the lens to decrease the haze and dimming common with traditional headlights.
Most of the exterior lights on the ProStar now utilize LED technology, which draws less power than halogen lamps. The lower power draw extends the life of the lights and lowers maintenance costs for customers, while allowing for additional power for supplemental electronic devices on the vehicle.