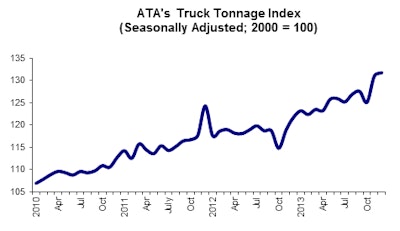 Truck tonnage in 2013 increased 6.2 percent over 2012, driven by a surge in November and a small bump in December, making the year the best for tonnage since 1998, says the American Trucking Associations, who released its monthly For-Hire Truck Tonnage Index this week.
The index in December rose 0.6 percent, followed by a 4.7 percent increase in November, which was upwardly revised from a 2.7 percent increase reported in December.
Moreover, December's 130.9 is a record high for the index.
Compared to the same month last year, December was up 8.2 percent.
ATA Chief Economist Bob Costello says the increase points to an economy that is stronger than some might believe. "Tonnage ended 2013 on a high note, which fits with many economic indicators as trucking is an excellent reflection of the tangible goods economy," Costello said. "The final quarter was the strongest we've seen in a couple of years, rising 2.2 percent from the third quarter and 9.1 percent from a year earlier."
And unlike other increases in the year, which were spurred by tonnage-intensive sectors like flatbed and tanks, tonnage has been seeing more across-the-board growth, he said.
"I'm seeing more broad-based gains now," he said. "With manufacturing and consumer spending picking up, coupled with solid volumes from hydraulic fracturing, I look for tonnage to be good in 2014 as well."
ATA calculates the tonnage index based on surveys from its membership.