Saia LTL Freight, a publicly held and largely self-insured carrier, continues making big strides in safety. From 2009 to 2012, the Johns Creek, Ga.-based company saw improvements in key metrics for hours between employee injuries (9 percent), hours between city accidents (27 percent) and miles driven between line accidents (24 percent).
Saia has also won the Safe Fleet Award from the American Trucking Associations for three consecutive years, from 2010 to 2012. The advancements the company has made in driver training and safety technologies have played a significant role in its success.
During a one-week orientation period, all drivers that come to work for Saia are trained – or retrained, as the case may be – on the Smith System for defensive driving. And all drivers, regardless of experience, are recertified in the Smith System each year.
Saia also sources drivers from within. Its dock-to-driving training program gives workers hands-on experience moving equipment around the yard. Once they earn a commercial driver's license, Saia splits their workdays between the dock and behind the wheel for one year.
The safety record of drivers that complete the company's CDL program exceeds that of the more experienced drivers it hires, says Rick O'Dell, chief executive officer.
"We know the work history of people working for us," O'Dell says. "And we train them to drive the way we expect them to drive."
The training continues in the cab. Drivers receive immediate feedback and alerts from systems that monitor their spacing, lane departures, fuel efficiency and other safety and performance metrics. Saia also uses active safety systems such as adaptive cruise, collision mitigation and electronic stability control.
To maximize the benefits of these technologies, Saia built a custom performance management system to stay on top of the increasingly vast and complex data it collects from the field.
The full picture
Last year, Saia conducted an experiment to evaluate the benefits of using Bendix Safety Direct, a feature that transmits video footage of critical safety events, such as sudden deceleration or "hard braking" incidents. The video evidence is captured with the same windshield-mounted camera used by Saia's lane departure warning system and space cushion monitoring system, called AutoVue and Vorad, respectively – also from Bendix.
The integrated Bendix Safety Direct system automatically saves a 20-second clip that contains 10 seconds of footage leading up to the critical event and 10 seconds afterward. A hyperlink to the video – along with associated data such as the vehicle's speed and location – is e-mailed to the safety department.
Saia used 20 driver volunteers for the experiment. As videos started arriving, management found that in nearly all cases, the incidents were caused by unsafe motorists, O'Dell says. Saia did not need to counsel a driver until after about five months of monitoring.
"(The video) demonstrates the professionalism of drivers," he says. "It also helps to increase our awareness of what they are looking at."
As part of rolling out video-based monitoring across its fleet, Saia plans to hire someone to monitor the events and to identify opportunities to counsel drivers and to recognize them for professional safe driving more frequently.
Besides using technology to mitigate risk, Saia is making significant strides in fuel efficiency. The company uses an on-board computing and telematics system from Vnomics to capture vehicle and engine data. At the end of each trip, the device shows drivers their fuel-efficiency performance from start to finish – every ignition on/off event.
Drivers and fleet management are monitoring the percentage of time that drivers shift in the optimal torque band. The fleet's goal is 90 percent, which more than 90 percent of drivers have reached, O'Dell says.
In 2013, Saia installed trailer skirts and fairings and began purchasing units with automatic transmissions as it continued to decommission poorer performing tractors with regards to mpg. For the third quarter of 2013, Saia achieved a company average of 6.8 mpg, a new record.
If the current rate of improvement holds for 2014, Saia expects to save $6 million per year over its 2010 mpg levels.
Stratifying data
For Saia, one benefit of capturing and transmitting so much field data is to understand events better, both on an individual level and by looking at singular events in the context of overall trends.
"By itself, an incident does not bring a good visualization to mind," O'Dell says. While some drivers might have zero hard braking incidents, others may have weekly incidents. One explanation could be that drivers on the high end work in major metropolitan areas, but the data might tell a different story.
Saia quickly is able to identify drivers in need of counseling and retraining by comparing trends by geographic area to find the outliers and exceptions. Video footage also shows the cause for incidents such as hard braking. Safety managers know instantly if the incident was the driver's fault by using the video and a myriad of other details about the sequence of events such as time, location, speed and engine rpms.
One detail that Saia has chosen not to capture as part of the investigation is video footage of the driver. Some fleets use video-based risk management systems that capture in-cab video to detect incidents where distracted driving might have played a factor.
"From a privacy and professionalism standpoint, we have decided to not do that," O'Dell says. "People are sensitive to that."
Performance management
With the technologies Saia has in its vehicles, gathering data about drivers and critical safety events is the easy part. With 5,000 drivers spread out across 147 terminal locations, the ability to disseminate and interpret information quickly to the right stakeholders is what creates value, O'Dell says.
Saia has built scorecards that are sent monthly to drivers that show how their performance compares with their peers for defensive driving skills in terms of events captured by its lane departure and space cushion monitoring systems. The scorecards are used to reward top performers and to identify drivers that need additional training or counseling.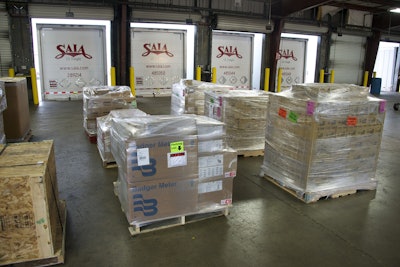 The scorecards are one of several features of Saia's custom performance management software system. Before it developed this software, management was requesting each terminal to keep files on driver performance.
"Whether they did it, we didn't know," O'Dell says. "Today, we have visibility centrally to what is in a person's performance management file. The data we are gathering is used to provide feedback to the individual. To me, that is huge. We've always had safety meetings and talk about what you need to do to be successful. Today, beyond having those discussions, we are giving you a regular performance report."
With the data Saia is collecting, its ability to manage it by using cumulative metrics and building a framework to identify and understand risk quickly is driving results.
"You are going to rise to the top if you have regular bad habits," O'Dell says. "You can't hide."