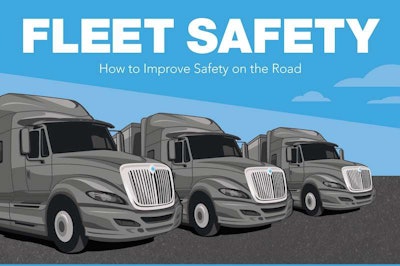 Anxiety. It's that desperate, defenseless feeling a motorist gets when the large truck in the rear-view mirror suddenly appears larger than life. It's also what keeps fleet owners and managers awake at night, wondering when the next accident will be, and what they can do to prevent it.
There is reason for anxiety. One of the most costly and potentially fatal type of crashes, the rear-end collision, is one of the most frequent.
According to 2011 crash statistics, 43 percent of large truck crashes involved another vehicle. Of these, 23 percent were rear-end collisions. That amounts to nearly 10 percent (0.43 x 0.23) of all truck crashes.

One way to safeguard against rear-end collisions and other accidents is to identify high-risk behaviors and intervene to eliminate repeat offenses. Mobile fleet management systems, for instance, can issue instant alerts for speeding and rapid deceleration or "hard braking" events which are leading indicators for accidents.
The 2011 truck crash figures, published by the Federal Motor Carrier Safety Administration in October, 2013, show that speeding was a leading cause of 23 percent of truck accidents. Aggressive driving (6 percent) and following too closely (5 percent) also made the list.
Christenson Transportation, a dry-van carrier based in Stafford, Mo., is using the TPC 7600 system from Rand McNally to monitor its 100-truck fleet. Whenever speeding or hard braking events occur, its drivers receive a message in the cab on their TPC 7600 display.
An e-mail alert is also sent to operations. Drivers will soon be getting a phone call.
"We immediately contact the driver and discuss that event," says Barry McGowen, vice president.
McGowen estimates that about 80 percent of the fleet's hard braking events occur in low-speed situations, like in parking lots, when drivers are bobtailing. The alerts show the vehicle's speed at the time drivers hit the brakes.
Low speed and low risk situations merit a phone call. "We want them to know that we see everything," he says. "Basically, after about two events they know we are on top of the situation and they will quit doing whatever they were doing."
Hard braking events at highway speeds are a more serious matter. At Christenson Transportation, the first event gets the driver a warning. The second offense can cost a driver his job.
Christenson has seen hard braking events decline by about 75 percent since it started using the technology from Rand McNally. Today, about 90 percent of its drivers do not have any events on their records. Those with one event are unlikely to make the same mistake twice, he says.
Christenson also uses the TPC 7600 to monitor drivers' speed relative to the posted speed limits. If a driver is going 60 mph in a 55 mph zone in Ohio, for example, the in-cab computer beeps and tells the driver "you have exceeded the speed limit by 5 mph. You've got 6 seconds to correct." If the driver does not slow down, an e-mail alert is automatically sent to management.
Expanding the view
Besides providing instant alerts of risk, mobile fleet management systems capture detailed information, second by second, of what happened leading up to and following the trigger event. These details are useful for coaching drivers and for a legal defense.
The XRS mobile fleet management system reports speeding and rapid acceleration and deceleration events. For each event, XRS captures the time, location and a range of vehicle data that includes speed, throttle, clutch, cruise control and brake pressure.
All of this information is recorded in 0.2 second intervals to provide a very detailed picture of the event, says Ryan Barnett, director of market development for XRS Corp. By clicking on the hyperlink in the e-mail alert, managers can view the event details on a map display within FleetView, XRS' web-based management portal.
With the PowerVue system from Cadec, drivers get a warning on the mobile device for exceeding a fleet's speed threshold and other established performance criteria. If they do not correct the problem quickly the system will send an alert to management, either to an alerting panel within PowerVue's web portal or via text or e-mail, depending on how each alert is configured.
The system has more than 80 types of alerts for users to configure however they want, says Eric Witty, Cadec's vice president of product management. Cadec also has the ability to capture data from vehicle safety systems, though many of its private fleet customers have been slower to adopt these systems than commercial haulers, he says.
PeopleNet captures hard braking events automatically with its Onboard Event Recorder (OER) feature; it also has an option where drivers can manually trigger an event by pressing a button on the in-cab display. This manual option can be useful as a legal defense record for situations where a driver is in close proximity of an accident but not directly involved.
PeopleNet's OER captures a detailed record of data starting 170 seconds before the event and 30 seconds after sudden acceleration or deceleration. PeopleNet can also capture event data from collision avoidance and roll stability safety systems. A driver that is following too closely for example, triggers an alert which is presented with other data captured by the OER application, says Rick Ochsendorf, senior vice president of operations.
The company can also pull OER events into Vusion, its analytics division, to give fleet customers a view of risk factors like a dangerous highway intersection. Vusion can use the location-specific OER data to create "hotspot" warnings and notifications for fleets and drivers. PeopleNet gathers OER information from more than 200,000 vehicles, he says.
Real-time warnings, alerts and event records are a few of the many ways technology helps fleets identify and take action to eliminate risky behaviors. If left unchecked, the behaviors are likely to cause very costly, and preventable, accidents down the road.