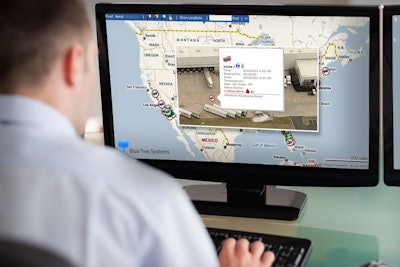 Blue Tree Systems, Inc. a provider of trailer tracking, reefer monitoring and fleet management systems, announced that Summitt Trucking, LLC is switching its fleet to the R:COM fleet management system. The transportation and logistics services provider is using Blue Tree Systems' R:COM tracking and management capabilities on all tractors and trailers.
"We've been using mobile communications for many years, and therefore had high expectations of what these solutions should offer," said David Summitt, president and owner of Summitt Trucking. "After careful review, we decided to switch to Blue Tree Systems based on the comprehensive nature of its R:COM solution and its integration with TMW, particularly its auto arrive/depart functionality."
Founded in 2003, Clarksville, Indiana-based Summitt Trucking is a family owned and operated asset-based transportation and logistics company. Through steady growth and acquisitions, the carrier has expanded, and now provides dry and refrigerated truckload, as well as expedited service to customers throughout the 48 states and Canada.
Summitt Trucking is installing its entire fleet of more than 150 tractors, 475 dry vans and 75 reefers with R:COM systems. All trailer units are equipped with sensors to monitor and track the deployment of the newly installed ATDynamics TrailerTail aerodynamic devices. This capability to monitor the TrailerTail while in movement is the result of a partnership between Blue Tree Systems and ATDynamics Inc.
Typical installation time for a complete R:COM EOBR system is less than one hour. The R:COM system provides tracking and trip reporting for Summitt Trucking, turn-by-turn navigation, messaging and workflow functions between the driver and TMW. Also, all the data provided from both refrigerated and dry van trailers, including trailer status information and refrigeration unit settings, are integrated through TMWSuite.