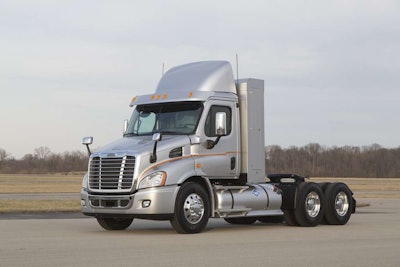 Freightliner Trucks today delivered a Freightliner Cascadia 113 CNG tractor to Team Run Smart PRO Jimmy Nevarez. Nevarez will run the truck in southern California and blog about his experiences at www.TeamRunSmart.com.
Nevarez was selected as a PRO by Freightliner Trucks last year, and has been providing tips to other professional drivers through Team Run Smart. Based out of Chino, Calif., Nevarez owns Angus Transportation, Inc., an independent contractor, and has been in the trucking industry for more than 12 years.
"Driving the Freightliner natural gas tractor appeals to me for a number of reasons," said Nevarez. "Based on my initial estimates, using natural gas will save me several thousands of dollars every year, which as an owner-operator has an immediate impact on my business. Plus, I like that it's a clean fuel that will leave a better future for my family."
The Cascadia 113 CNG tractor is equipped with the new Cummins Westport ISX12 G heavy-duty natural gas engine. Best suited for regional hauling and LTL, the engine can pull up to 80,000 lbs., making it ideal for the varied freight that Nevarez carries. The truck will also feature a 140 diesel gas equivalent (DGE) fuel tank capacity, enabling an estimated 500 to 600 miles in range.
"We're excited for Jimmy to experience a natural gas-powered Cascadia 113, and to give the trucking community his impressions with the technology through his blog on TeamRunSmart.com," said Mary Aufdemberg, director of product marketing for Freightliner Trucks. "The Cascadia 113 CNG tractor is a smart alternative for business-minded professionals who are seeking sustainable solutions without compromising power and performance."
Freightliner's commitment to green technologies is part of parent company Daimler AG's global "Shaping Future Transportation" initiative. Launched in 2007, the initiative is focused on reducing criteria pollutants, carbon dioxide and fuel consumption through the utilization of clean, efficient drive systems including clean diesel and alternative fuels. Since 2008, Freightliner Trucks has sold more 3,000 natural gas-powered trucks and tractors.