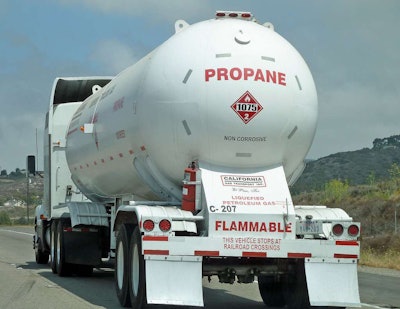 The U.S. House cleared a bill March 4 that would if passed give propane haulers and other home heating fuel transporters in 36 states an exemption to federal hours-of-service regulations.
Rep. Bill Shuster's (R-Pa.) Home Heating Emergency Assistance Through Transportation Act passed the lower chamber on a voice vote. Shuster is the chair of the House's Transportation and Infrastructure Committee, and the HHEATT bill (H.R. 4076) has 36 co-sponsors.
The Federal Motor Carrier Safety Administration began issuing in January waivers to the federal hours-of-service rules in light of propane shortages due to extreme temperatures and distribution problems.
However, the agency can only issue HOS exemptions in 30-day increments.
The bill would extend all exemptions issued Feb. 5, which includes 36 states in the Midwest, West and the East.
Some of the FMCSA-issued waivers have expired, but the agency did recently extend the waivers for propane haulers in South Dakota, Delaware, Indiana, Massachusetts, New Hampshire, New Jersey, New York, Pennsylvania and Vermont until March 15.
Governors in some states also have extended exemptions for propane haulers and other loads in Colorado, Minnesota, Missouri, North Carolina and Tennessee.
The bill would allow Secretary of Transportation Anthony Foxx to end the extension if the propane crisis is resolved before May 31. Foxx would be required to consult with governors in affected states and lift the waivers on a state-by-state basis.