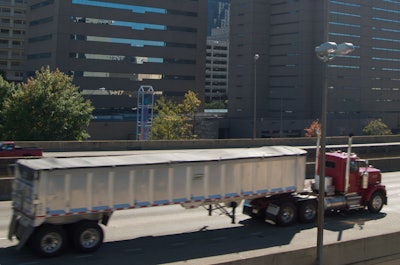 The trucking industry and labor advocates around the country have squared off of late over what constitutes an independent contractor, and lawmakers and courts are taking steps to define whether owner-operators should be classified as employees.
Unions increasingly back lawsuits and state laws that would force owner-operators to be classified as employees, and lawmakers are more open to proposals to boost tax revenue.
Environmental and labor groups have also joined the movement to ban owner-operators from ports, arguing that they can't afford upgrades to meet tighter emissions rules imposed by ports and a change in employee status is necessary.
Here's a roundup of some key misclassification action nationwide:
New York: In a new law taking effect April 1, new criteria will determine independent contractor status. The New York State Commercial Goods Transportation Industry Fair Play Act has support from both trucking and labor, says N.Y. Gov. Andrew Cuomo. The law is expected to help better determine whether truck drivers should be classified as an owner-operator or a company driver. It was supported by both the New York Motor Truck Association and the Teamsters. It includes penalties for willful violators and protections for drivers from retaliation by employers.
New Jersey: New Jersey is once again considering legislation to bar owner-operators from port and parcel deliver services. Gov. Chris Christie vetoed an identical bill last year. The new law, the Truck Operator Independent Contractor Act, is being considered in both chambers of the state's Congress. ATA and OOIDA both opposed the legislation last year.
Georgia: A bill in the state's Senate would target misclassification in trucking and other industries, implementing tighter definitions of employee status and hiking penalties for misclassification. The Teamsters and port trucks held a press conference with the sponsors of the bill Feb. 26.
Ohio: A bill in the state's House would grant an exemption to classify owner-operators and independent contractors, relying on input from FedEx and OOIDA and taking into consideration court decisions that decided a truck owner getting compensation per tonnage or mile qualifies as an independent contractor.
Washington: The Employee Fair Classification Act was referred to a committee in the state's Senate Feb. 18 after clearing the Washington House. It would define independent contractors and institute penalties and damages for violation. The state's trucking association opposes the bill, saying it would classify nearly all workers as employees.
California: Port truckers in Los Angeles and Long Beach sued QTS last year saying they should have been classified as employees, saying that signing waivers and receiving repairs to their trucks were conditions of employment. Asian Americans Advancing Justice and the Wage Justice Center are backing the truckers int he case. A California judge ruled last month, however, to not rule in the case. The truckers had 30 days from the ruling to file an amended complaint.
Idaho: The Idaho Supreme Court has concluded operating under the authority of a carrier's DOT number is not considered sufficient to eliminate an owner-operator from IC status. In Western Home Transport, Inc. v. State of Idaho, the state's highest court overruled a previous decision that allowed the state's labor department to use operating under a company's authority as a stand-alone determination of employment status.