The Federal Motor Carrier Safety Administration wasn't established to protect the trucking industry, Administrator Anne Ferro told Congress this week as she defended the agency's public display of trucking company safety scores and new hours-of-service rules.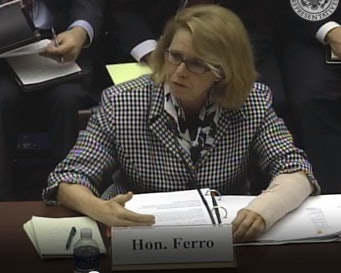 In an oversight hearing on the implementation of various MAP-21 mandates, several members of the House Transportation Subcommittee on Highways and Transit questioned Ferro about some "unintended consequences" of HOS changes and about the recent Government Accountability Office study that was critical of the Compliance, Safety, Accountability program.
Rep. Richard Hanna suggested that FMCSA is "hurting the people that you are paid to help."
He cited inaccurate and unreliable carrier data leading to "erroneous" safety scores under CSA – and in turn to higher insurance costs, expensive litigation, and loss of business. Hanna was also critical of FMCSA's field study regarding the changes to HOS.
"These are real-world, tortuous problems that you're putting these truckers through, and frankly the organization acts like they've got all the time in the world to correct these problems," Hanna said. "I think you need to back up, ma'am, and take a look at some of this stuff. Are we so thick we can't hear the very people whose lives we're impacting? Is there nobody you believe except some academic who does a study?"
"I'm not hired to help the industry," Ferro responded. "I'm hired to ensure the safety of the traveling public and improve the safety of the operations of trucks and buses. That's what the agency was created to do, and as its lead I'm very proud to be a part of that."
Ferro explained the hours-of-service rule was designed to reduce the cumulative fatigue experienced by truck drivers, and that while the agency recognizes the financial impact on trucking companies, there is a "much larger safety and health benefit."
Other members of the committee cited instances of a driver stuck in traffic, or of a female driver being forced to stop at an unsafe location when the available duty hours run out.
Rep. Markwayne Mullen called the hours-of-service rules "hypocritical," and he challenged Ferro to do her job based on the driver HOS limits.
"Drivers know when they're tired and when they're not – they're professionals," Mullen said. "Ma'am, no one regulates how many hours you can work. This is a one-size-fits all approach, and you don't want to hear about it."
Ferro responded that there are "significant operating opportunities" within the new rule, and that Mullen's call to focus on lawbreakers was "the heart of CSA."
Similarly, given the GAO's report of the program's shortcomings, Rep. Lou Barletta asked why FMCSA isn't "doing the right thing" by removing carrier scores from the website "until CSA is fixed."
Ferro, however, emphasized the agency is committed to improving the program, but she disagreed with GAO recommendation that CSA should focus more on larger trucking companies. And she emphasized that CSA is designed to "anticipate" safety problems, and not to wait until after crashes have occurred to measure carriers, as the GOA study suggested.
Ferro's formal testimony, an update on the FMCSA regulatory agenda, is here.