U.S. rail traffic increased in March for both carload and intermodal volume, compared to year before, the Association of American Railroads reports.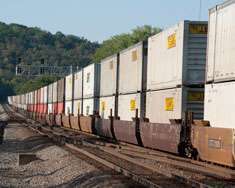 Intermodal traffic in March totaled 1,025,907 containers and trailers, up 9.9 percent compared with March 2013, and the 52nd-consecutive year-over-year monthly increase for intermodal volume.
The weekly average of 256,477 intermodal units on U.S. railroads in March was easily the highest for any March in history and was the fourth highest for any month in history, according to AAR.
Meanwhile, U.S. carload originations totaled 1,156,697 for the month, up 3.5 percent.
"U.S. rail traffic rebounded strongly in March 2014 following a sub-par February.  Grain led the way, as railroads are working hard to move the biggest grain harvest in history," says AAR Senior Vice President John T. Gray. "In addition, coal carloads rose in March, something that's happened just one other time in the past two years. March also demonstrated that we have every reason to be optimistic that 2014 will break 2013's intermodal volume record."
Eleven of the 20 commodity categories tracked by the AAR each month saw year-over-year carload increases in March. Commodities with the biggest carload increases included grain, up 21.2 percent; coal, up 2.2 percent; crushed stone, sand and gravel, up 5.6 percent; and petroleum and petroleum products, up 8.2 percent.
Commodity categories with carload declines last month included iron and steel scrap, down 13.7 percent; metallic ores, down 7.1 percent; and steel and other primary metal products, down 2.1 percent.
Excluding coal and grain, carloads were up 14,707 carloads, or 2.9 percent, in March over the same month last year.