Frost & Sullivan recognized Telogis with the 2013 North American Frost & Sullivan Award for Company of the Year in light commercial vehicle telematics based on its recent analysis of the market. Over the past several years, Telogis said it has pursued an aggressive growth strategy focusing on investments in innovation and expanding its global reach.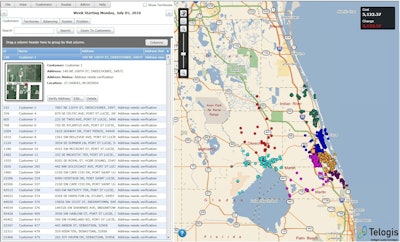 Each year, Frost & Sullivan presents this award to the company that has demonstrated excellence in devising a powerful growth strategy and robustly implementing it. In short, the award looks at the emerging market players in the industry and recognizes their best practices that are positioned for future growth.
Telogis' investments in research and development have centered around its cloud-based platform that scales to meet the needs of companies and fleets of any size. Its applications work together and integrate with customers' existing technology investments to provide information that helps to optimize their assets and critical data, the company said.
"Overall, Telogis has gained a reputation as a mission-critical technology partner that offers a range of next-generation solutions to companies that require work order management, routing, telematics, as well as mobile integration and navigation services," said Nandini Tare, industry analyst at Frost & Sullivan.
Telogis has also collaborated closely with several vehicle and equipment manufacturers. Since 2011, Telogis has been the exclusive technology provider for Ford Motor Company, powering its factory-installed Ford Crew Chief telematics system for Ford commercial vehicles. Telogis also partnered with Volvo Trucks and Mack Trucks in 2013 to co-develop new telematics and navigation services.
In October 2013, Telogis secured $93 million in institutional capital led by Kleiner Perkins Caufield & Byers (KPCB), one of the preeminent firms in technology investing.
Frost & Sullivan industry analysts compare market participants and measure performance through in-depth interviews, analysis, and extensive secondary research in order to identify best practices in the industry.