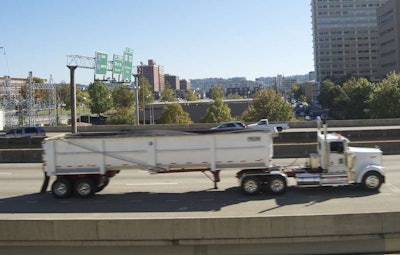 FTR's monthly Trucking Conditions Index jumped in March by more than a point to a reading of 8.69 on the heels of what FTR says is an "extremely tight capacity" that spurred an increase in rates.
FTR says capacity will remain at the current tight level until freight growth slows, which the research firm says is expected in the second quarter, which would relieve some capacity restraints.
Trucking conditions, as measured by the index, are expected to remain high, though, says FTR, as capacity will remain tight, even if some relief comes in the second quarter.
FTR's Jonathan Starks, director of transportation analysis, said supply and demand in the industry is becoming more balanced, due in part to the end of a freight season and the warmer weather allowing the industry to make its way through the backlog caused by severe winter weather.
"Truckers should be feeling much better now that they have finally been able to use the ever tightening truck supply to get much needed rate gains," he said. "It looks like much of the supply-and-demand balance is coming back down to a more 'normal' level. 'Normal' remains a relative term since the industry continues to be operating at much higher levels of utilization than we have seen in the past. Recent data shows a strong uptick in economic activity, but it will be hard to know if we are merely playing catch-up from a bad [first quarter] or if there is some real sustained growth occurring."