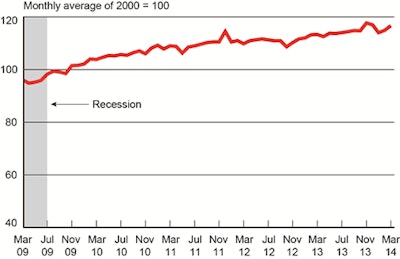 The for-hire transportation industry carried 1.6 percent more freight in March than in February, following February's growth from January, according to the U.S. Department of Transportation's Bureau of Transportation Statistics.
Trucking, too, saw "rapid" growth in the month, according to BTS, which saw "continued recovery from unusually severe winter weather that hampered freight shipments in earlier months."
Freight shipments in March were up 3 percent from the same month last year, but were actually down 0.2 percent year to date, due to the drag from January.
The Index reading of 116.7 was just 0.8 percent shy of November 2013's all-time high of 117.7 and was the third-highest reading in the Index's history.  And it was 23.2 percent higher than April 2009's low in the most recent recession.
BTS did downwardly revise February's reading slightly, but it upwardly revised all months from October to January.