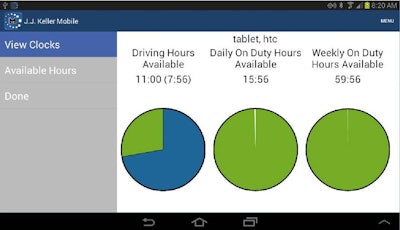 Verizon Networkfleet and J.J. Keller & Associates have reached an agreement to develop an integrated GPS fleet management system that will provide complete performance and compliance management. J.J. Keller's Encompass compliance system will be added later this year to Verizon Networkfleet's fleet management portfolio.
"Verizon Networkfleet and J.J. Keller are offering a different approach to the regional and long-haul trucking markets in developing a compliance solution that includes telematics-based features for improved driver safety and efficiency," said Clement Driscoll, founder and president of C.J. Driscoll & Associates. "This offering will leverage the strengths of leaders in their respective fields."
With this new integrated system, Verizon Networkfleet says its clients will be able to efficiently manage critical requirements such as hours of service (HOS), driver vehicle inspection reports (DVIRs) and fuel taxes (IFTA), offering greater ability to manage and improve Compliance, Safety and Accountability (CSA) scores. The J.J. Keller electronic compliance functionality will be embedded in Verizon Networkfleet hardware, which will seamlessly transfer data to the J.J. Keller Mobile app via Bluetooth technology.
"Due to increased regulatory scrutiny aimed at keeping the roads safer — including a potential regulation by the Federal Motor Carrier Safety Administration (FMCSA) requiring electronic logging of drivers' hours of service — we recognized that the time was right to introduce a comprehensive and cost-effective compliance solution based on telematics," said Joshua Haims, general manager with Verizon Networkfleet.
A recent study conducted by the Center for Truck and Bus Safety at the Virginia Tech Transportation Institute and commissioned by the FMCSA found that trucks equipped with electronic logs experienced a 53 percent lower driving-related hours-of-service violation rate, an 11.7 percent reduction in their total crash rate and a 5.1 percent reduction in their preventable crash rate.
Verizon Networkfleet clients will also have access to the nation's largest wireless network through Verizon, in addition to the ability to integrate their existing devices and tap into mobile device management expertise.
"Having been selected for our expertise in safety and compliance is a real honor, and this collaboration brings two well-respected firms together to create a one-of-a-kind solution," said Rustin Keller, J. J. Keller's executive vice president and COO. "The flexibility, simplicity, and affordability of our mobile platform set it apart."