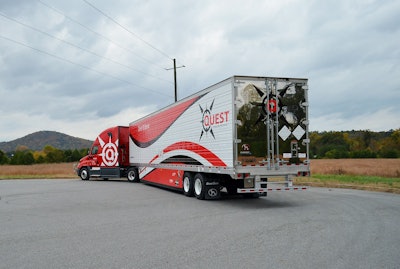 Pegasus TransTech announced that Quest Global has expanded its use of Transflo scanning to speed cash flow and increase efficiency by giving drivers more options to conveniently submit proof-of-delivery documents.
Pegasus TransTech provides document scanning applications to the transportation industry. Quest Global is a Cartersville, Ga.-based refrigerated carrier that provides time-sensitive service with a modern fleet of 250, company-owned tractors. The company operates from the Southeast to the West coast.
Quest Global began using Transflo Express in 2007. With more than 950 full-service scan locations, including all Pilot Flying J and Love's Travel Center stores, Transflo Express is the nation's largest scanning network with 24/7 availability.
"Our team members appreciate the convenience," said Chris Champion, vice president of employee services. "They know that paperwork gets transmitted immediately, so they do not have to worry about it being dropped off or getting lost."
The high-quality scanned images are instantly routed to Quest Global's transportation management software system where they are integrated with its billing and payroll processes.
Until recently, Quest Global gave drivers the option to drop off paperwork at its office. In April, the company moved all administrative functions to a new building while keeping its service center, or terminal, at the same location. Now that payroll, billing and other administration functions are in a separate location, Champion says all drivers will use Transflo scanning to submit documents, without exception.
"We are about to increase our Transflo business to make sure everything moves toward scanning," said Champion, who believes the transition will be easy since drivers are already familiar with Transflo Express, Translfo Mobile and Transflo Now! in-cab scanning applications.
In particular, Champion expects use of Transflo Mobile will increase significantly in the future. "This is even more convenient for employees since they can make sure documents are scanned, and it removes the need to have another person scan it for them – taking out a middle-man. Stopping at a truckstop is just one more thing to do during their already busy schedule."
Drivers can download Transflo Mobile for free on their personal smartphones and tablets. The user-friendly, enterprise-grade app is Pegasus TransTech's fastest growing scanning application.
"For many drivers, Transflo Mobile will be the most convenient way to submit trip documents," said Frank Adelman, president and CEO of Pegasus TransTech. "Pegasus TransTech offers drivers a variety of options to scan at truck stops, in the cab of their truck or using a smartphone. All of these options ensure fast, reliable delivery of high-quality documents."