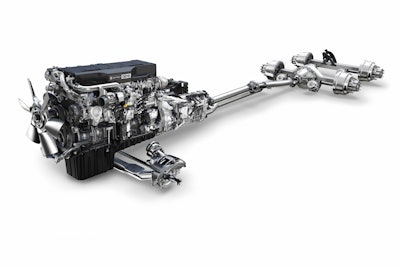 The 2014 CCJ Spring Symposium last week in Nashville, Tenn., provided attendees with insight into the trucking industry for the coming months and years. The event included keynote addresses by political pundit and FOX News regular Tucker Carlson, and Dr. Michio Kaku, renowned physicist and futurist. Of course we covered all the sessions online, but in case you missed it, here's a recap of some of the symposium highlights. (Want to experience a CCJ Symposium in person? Click here to register for the CCJ Summer Symposium or check CCJSymposium.com for details on the upcoming CCJ Fall Symposium.)
Shepard Dunn, president of Bestway Express and 2014-2015 chairman of the Truckload Carriers Association, outlines his image platform during his TCA tenure and discusses the organization's successes and needs to further a positive public image of the trucking industry.
A fleet executive panel including representatives from Fremont Contract Carriers, Melton Truck Lines and Epes Transport discuss best practices in recruiting and retention and what matters most to company drivers and independent contractors when working for/with carriers.
Caitlin Hughes Rayman, director of the Office of Freight Management for the Federal Highway Administration, and Tim Wiseman, managing partner at Scopelitis, Garvin, Light, Hansen & Feary outline the future of infrastructure funding and regulatory issues facing the trucking industry.
Brent Nussbaum, CEO of Nussbaum Transportation, led a breakout workshop where he discussed his company's adoption of automated manual transmissions dating back to the 1980's and some of the pitfalls and successes the company has experienced since that time.
David Ross, managing director of transportation and logistics for analyst firm Stifel, Nicolaus and Company, says a squeeze in freight capacity will continue to create favorable rate conditions for carriers, but warns that there are some troubling economic indicators that carriers should be paying attention to.