USA Truck (#44 on the CCJ Top 250) has expanded its board of directors to accommodate the struggling carrier's largest shareholders, a deal the current board chairman characterized as "constructive."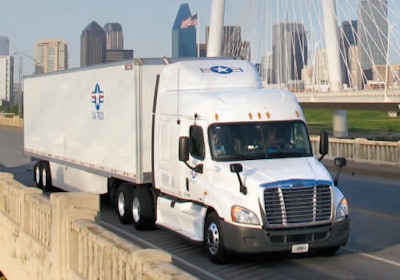 The Arkansas-based trucking and transportation brokerage company on Friday named to the board Vadim Perelman, managing partner and chief investment officer of Baker Street Capital, and Thomas Glaser, a former company advisor and executive. The additions expand the board to nine members.
On May 7, Baker Street, a Los Angeles-based hedge fund, joined with Stone House Capital of New York City to form United Shareholders for the Benefit of USAK. United Shareholders are collectively now the largest shareholder of USA Truck with an approximate equity stake of 28 percent of the company's shares.
According to that SEC filing, coming a day after the expiration of a USA Truck "poison pill" meant to limit ownerships blocks and discourage hostile takeovers, United Shareholders was formed "for the purpose of engaging in discussions with the management and the board regarding the composition of the board, [USA Truck]'s operating results and available opportunities to enhance stockholder value."
USA Truck said at the time the company welcomes the input of shareholders – a message Chairman Robert A. Peiser reiterated Friday.
"As always, the USA Truck Board is dedicated to creating value for our shareholders and we appreciate the constructive input that Baker Street Capital and Stone House Capital have provided towards our mutual goal over the past several months," Peiser said in a statement.
Peiser cited Perelman's "valuable financial and strategic expertise" and noted that Glaser has been a senior transportation executive for almost three decades and served as a consultant to USA Truck in 2012 and as interim chief operating officer in 2013.
"His deep knowledge of the trucking industry and USA Truck, combined with his sound judgment and professionalism, will also further the company's turnaround plan," Peiser said.
In other remarks reported Friday, Peiser said he expects Perelman to a "constructive" rather than a "disruptive" member of the board – and that, with seats on the board, United Shareholders will be better informed about the company's recovery strategy and progress.
USA Truck has posted annual net losses for five years, and had rebuffed merger opportunities with Celadon Group in 2011 and Knight Transportation last year.
And while the Knight takeover attempt concluded with an out-of-court settlement of a USA Truck suit accusing Knight of breach of contract, USAK's stock price is no worse for the wear, closing Friday at $16.19 – more than double the value from September when the Knight bid became public.
As part of the cooperation agreement with USA Truck, United Shareholders agreed to vote all of their shares in favor of company proposals submitted for stockholder approval at the 2014 annual meeting last week. The United Shareholders have also agreed to "standstill provisions" through the date that is 10 days prior to the deadline for submission of stockholder nominations for the 2015 Annual Meeting.