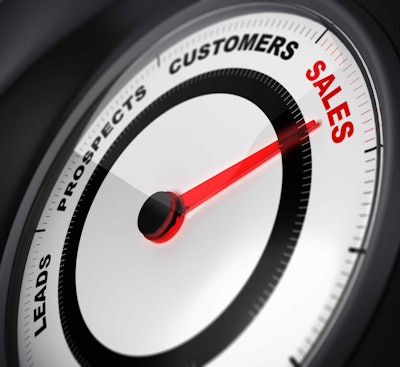 Of all the daily activities in business, perhaps none are more fluid than sales and marketing, especially in a business as dynamic as transportation. Companies must be able to act quickly and intelligently to find and retain customers before the competition gains the inside track.
As a follow up to a recent article in CCJ about the growing use of customer relationship management (CRM) technology, CCJ asked Stu Sutton, president of software provider Sylectus, for insight on how web-based fleet management systems and integrated load boards can help carriers and brokers build a better mousetrap.
Q. How can fleets utilize technology to track new business leads?
A. In today's challenging trucking industry, it's crucial for carriers to diversify their business and expand their customer base in order to succeed.
With Sylectus' customer profiling application, fleets can store information (name, address, etc.), track progress and manage communications with prospective new business leads through the online portal. Additionally, through the Sylectus network, fleets can identify new business prospects within a 60-mile radius and send marketing email messages requesting introductory meetings to help boost face time with prospective customers.
Furthermore, Sylectus' Alliance Network allows carriers to diversify their businesses and expand their offerings by providing access to a trusted network of fleets. For example, a 30-truck company in Tennessee can look, feel and act like a 14,000+ truck operation across North America (Canada, US and Mexico) with access to cargo vans, straight trucks, tractors, flatbeds, and reefers.
Q. How can fleets use technology to enhance their customer service and relationships with their customers?  
A. The success of every fleet, large and small, hinges on their ability to build and maintain sustainable, defendable business relationships with their customers. Although traditional customer service efforts are still the driving force behind maintaining positive relationships with pre-existing customers, innovative technologies—such as the Sylectus TMS–enable fleets to provide added value to their customers, such as automated real-time updates and access to a trusted network of fleets to expand their service offerings.
For many smaller fleets, a narrow network and limited resources can cause them to lose out on shipment opportunities to larger companies, harming their relationship with the customer and resulting in a loss of business. Saying "no" to customer requests,  smaller fleets not only lose the pending business, but also run the risk of losing a client relationships and future opportunities, permanently, resulting in a significant loss of operational profit.
With the Sylectus Alliance Network, fleets can share loads with one another, enabling them to say "YES!" to every customer request, thus positioning themselves as a dependable transportation provider, and in turn, strengthening their relationship with both the customer and with other fleets in the network.
Additionally, by utilizing Sylectus' TMS software, trucking companies can provide their customers with real-time updates and recap reports to ensure that they always know the status of the shipment during all stages of transportation process, resulting in stronger, more trusting relationships between carriers and their customers.