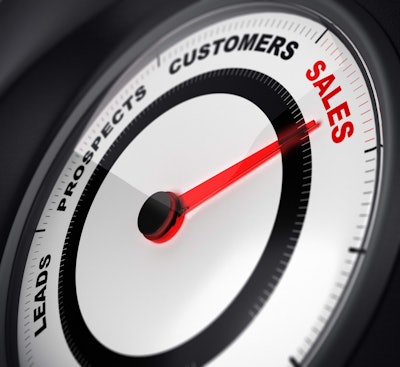 Of all the daily activities in business, perhaps none are more fluid than sales and marketing, especially in a business as dynamic as transportation. Managing the sales process is even more complex for companies that have multiple divisions.
"You have to go with the flow," says Theresa Campbell, vice president of sales for Meadow Lark Companies in Billings, MT. "We come up with new things every day."
Meadow Lark Companies operates a large third party logistics (3PL) and brokerage division with agent offices; a trucking division with 150 leased contractors; and a specialized division that moves oil rigs and other equipment for the energy sector. It also sells a line of clothing and work apparel to over-the-road truck drivers.
Until last year, Meadow Lark Companies was using a software system to track sales and marketing activities by customer. The software did little else and was no longer capable of meeting its growing needs.
"As a manager overseeing things, it was a daunting task to go into each customer profile to see what was going on," Campbell says.
In July, 2013, Meadow Lark implemented a new transportation management software (TMS) platform and soon after added a customer relationship management (CRM) system from the same vendor.
CRM systems are used by companies of all types and in all industries. Popular off-the-shelf products like Salesforce.com and Microsoft Dynamics come with many useful tools, but the executives of Meadow Lark saw an advantage to using CRM technology designed for transportation and, more specifically, for its TMS platform.
Integral CRM
Meadow Lark implemented the LoadMaster and PowerBroker TMS systems from McLeod Software. The McLeod CRM Module quickly became an integral part of the overall TMS platform to streamline sales, customer service and other critical business processes, Campbell says.
Today, when sales people call customers "they all use the same terminology and take the same steps," Campbell says. "If the customer has objection, we have the tools to act quickly. All the information they need is right there."
The company also uses the CRM tool across all divisions to plan and execute sales and marketing campaigns for its diverse group of customers. Campaigns are created and managed according to specific customers that ship food products versus oil rigs, for example.
Overall, the software is helping the business stay organized and to more successfully complete sales, she notes.
Gleaning insights
One of the advantages of using CRM software developed specifically for a TMS system is the immediate access to customer information within a single, shared database. No third-party integration is necessary.
"Instead of having to move data back and forth we try to provide access to the kind of data you are using day in and day out," says James Teubner, director of development for TMW Systems.
TMW has a CRM module for its TMW Suite platform called TMW CRM Right.  One of many ways its transportation and logistics clients are using the tool is to view customer profiles and see shipment history details to thereby identify sales opportunities, instantly, even while the customer is on the phone.
"You can pull these tools together about historical shipments and talk with the customer about current rate or tariff schedules. You can give spot buys or short term rates because you have excess equipment in a market and the ability to provide resources at cheaper rate," he says. "You can see all that in front of you."
Customer service and sales people can also record activities for each customer along with follow-up items, he says. When they login to the system, customers that are assigned to them are visible on a map with color coding that identifies missed or pending activities.
McLeod Software's CRM Module is a holistic customer management system, says Mark Cubine, vice president of marketing for the Birmingham, Ala.-based transportation software developer. The same customer data in LoadMaster and PowerBroker — loads, claims, quotes, payment, credit history, etc. — is instantly available and searchable within the CRM.
Cubine says the CRM Module is mainly used by transportation companies to set up a marketing plan, record results, and see dates by which sales people expect to close deals. It also has reports that show managers who is doing what, how effective they are, and which marketing efforts are successful.
All of this and more information helps companies continuously fine-tune their sales and marketing plan, he says.
A new ballgame
Increasingly, sales people will find themselves spending less time on the phone and more time completing electronic bid packages. Many shippers and their logistics providers are using software systems that automate communications with carriers from start to finish.
One of the largest 3PLs, Transplace, is used by more than 60 shippers. The 3PL uses an electronic bid procurement process followed by an electronic workflow that sends loads to carriers and automates all communications. In short, taking someone out to lunch will not make a difference in securing more freight.
What does make a difference is performance. Transplace has a carrier merit program that tracks carrier performance in areas like timeliness of status messages, on-time service, and their load acceptance rate. Carriers that score well can get additional benefits like accelerated payment terms and more bid opportunities, says Matthew Menner, senior vice president of strategic account management.
Being able to quickly adapt to individual customer requirements, streamline the sales process, and manage the ongoing relationship with customers are some of many challenges that CRM systems are designed to solve.