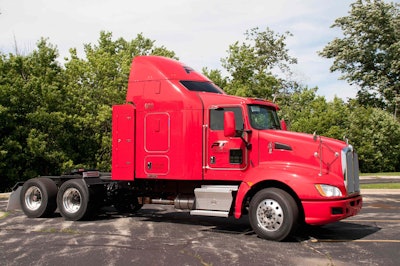 Company: Paper Transport, Inc., Green Bay, Wis.
2013 CCJ Top 250 rank; 238
Industry segment: General freight
2012 revenues: $69.1 million
Revenue change vs. 2011: 24.3 percent
Power units: 373
Trailers: 1,300
Drivers: 431
Paper Transport, headquartered in Green Bay, Wis., is a truckload carrier with a range of capabilities, including dry van, dedicated operations, intermodal drayage and brokerage services.
In February 2010, Paper Transport began using compressed natural gas tractors. Today, the company has 50 CNG-powered trucks with another 30 on order and was one of the first fleets to begin testing the Cummins Westport ISX12 G natural gas engine. The tractors run daily between Green Bay and Chicago hauling up to 80,000 pounds.
The fleet's conversion to CNG has led to considerable savings – a diesel gallon equivalent cost of $2.33 compared to $3.93 for diesel at the pump.
"When your truck is using 15,000 to 20,000 gallons of fuel an- nually, even a 20 or 30 cent-per-gallon savings is a lot," said Jeff Shefchik, president, to attendees at this year's ACT Expo, adding that there is also a comfort in knowing the price of natural gas isn't tied to crude oil and is much less volatile. "I can count on (the price) to be very stable."
Many fleets weary of testing natural gas point to the unknown residual values at the end of the equipment lifecycle. But Shefchik estimates residual value of a seven-year-old truck with 770,000 miles to be worth $5,000 in scrap and the tanks to be worth $25,000 – an additional $5,000 more than an entire diesel unit with comparable age and miles.
No. 218: Dillon Transport, Inc., Burr Ridge, Ill.>>